'Angligang' strikes a chord with CAC students
"Many of our songs pose thinking questions and contain lyrics about love, joy and forgiveness…We sing about other people's troubles and how God's love has guided them to wherever they are today," says Coomera Anglican College Captain and Senior Worship Band drummer Chris Airey in the continuing anglican focus series, 'How my art intersects with my faith'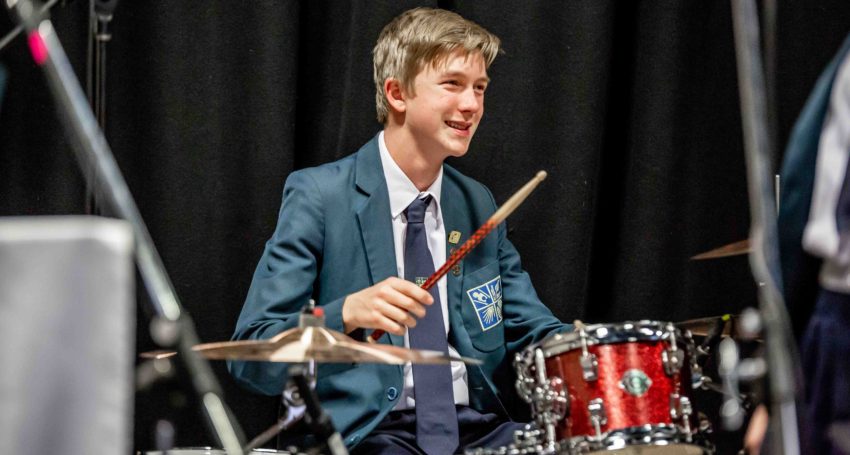 Story Timeline
How my art intersects with my faith;
I first became a part of the Coomera Anglican College Worship Band program in Year 7 as a guitarist. I originally did this to be a part of a service group and to express my connection to my faith through music. At this time, I had only been playing the guitar for a few years and saw this as an opportunity, to not only enhance my musical ability, but also as a chance to express my love for God through praise and worship along with my friends and peers. After being with the band for only a year, I knew that what we had together was something special and something I wanted to be a part of as I moved into my new role as the band's drummer.
Through the constant support of my music teacher, Natasha Materne, the band has remained focused and continued to reach new heights every year. I have continued in this ensemble, even with the busyness of Year 12, because the band has now grown into a family of support for me and my peers. Everyone who is a part of this band genuinely wants to be there and excels in their musical ability, while also serving others at student and staff worships, Baptism services and other community events.
Recently the Senior Worship Band or 'Angligang', as we are now affectionately known, accomplished the amazing task of composing and recording our first ever single, 'Faith, Hope and Love', which is featured on our first CD, also entitled Faith, Hope and Love. In the song we sing the words, "the love that surrounds us, mends and makes us whole."
I relate most strongly to these lyrics because the students who wrote the song have been together since the very beginnings of the band. We have grown together using music to express our faith, hope and love, and by performing the song we express the Christian faith evident in the College. I strongly believe that in the process of writing this song, we have come closer together as group of friends and created a unified band.
We consistently work to our strengths, constantly raising the bar of our performance levels. As a direct result, our band encourages those who are in the audience to sing and get involved themselves. It can be hard to get a bunch of teenagers to actively sing and participate in worship; however, I believe that one song at a time, worship is becoming a more interactive and open space for everyone at the College.
Faith is important to me, as I believe it is what helps me find purpose. Faith teaches us to be kind to one another, to love one another and to forgive one another. It teaches us how to be more loving and more like God, while also providing a chance to reflect on what is happening in our busy lives. One real reason I love being in this band and playing music here at the College, as opposed to any other band I am in, is because of the song lyrics we sing. Many of our songs pose thinking questions and contain lyrics about love, joy and forgiveness. This, in turn, brightens up my day and makes me happy too. We sing about other people's troubles and how God's love has guided them to wherever they are today. With a busy life, it is refreshing to take five minutes out of each day to find what I am thankful for, and faith teaches me to do just this. It fulfils me with greater self-worth and encourages me to be kinder, more generous and more loving.
The future of the worship band program at Coomera Anglican College looks very positive. We have no limit! Through the songs, the scriptures and lyrics, we have fun and find enjoyment in every rehearsal and worship, sharing a love for God and expressing this through music. Every year, more and more students are signing up to be a part of this movement because they want to be a part of this special group. As a memento, we have also recorded some of our favourite songs on a CD, so wherever we go we can sing and express the goodness of God.
Jump to next article