From DC Talk to Live on Mars
"Connecting with people through music is my favourite way of living out my faith in Jesus who told us to love our neighbour as we love ourselves," says the Justice Unit's Peter Branjerdporn in our continuing series 'How my art intersects with my faith'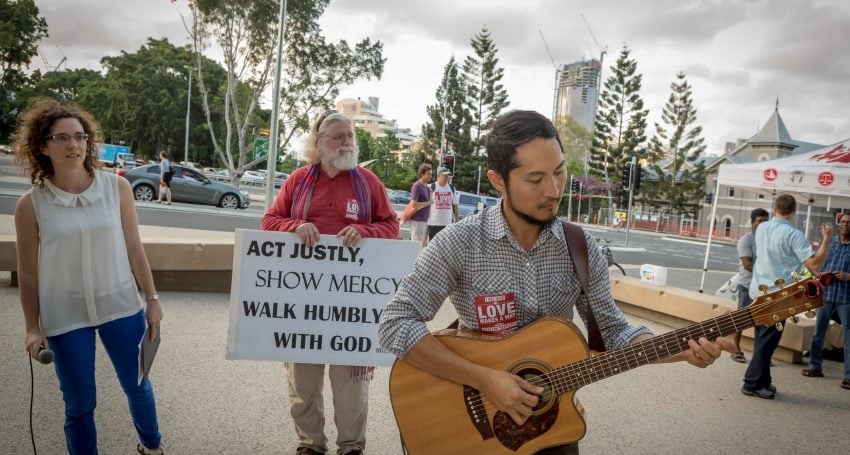 Story Timeline
How my art intersects with my faith
I have a confession to make. I am a DC Talk fan. If you don't get that reference, then you probably weren't a young Christian in the 90s clumsily navigating the musical landscape between mainstream grunge band Nirvana and Christian singer-songwriter Michael W Smith. Chances are you also didn't donate all your 'secular rock' CDs to Vinnie's and vow to buy all your music from Koorong for the rest of your life.
That was me. I was told that to be a good Christian I should only listen to 'Christian music', or at least nothing 'heavy'. I led the worship team every second Sunday at church. We formed a band at Youth Group called Mustard Seed and even got interviewed on Christian station Rhema FM! Like every other young Christian musician at the time, my aim in life was to become a famous worship leader so I could serve God with my talent and bring people to Him.
The problem with that thinking, I eventually found, was that the imaginary line I drew between what's sacred and secular is just that – it's imagined. It's not based on reality. Jesus was always 'in the world', not separate from it. If I was going to truly follow the God who came to live among us then I needed to get used to the idea that it's okay for my faith, music (such as my new album), and my whole life, to be 'out there'.
I was blessed to meet many other Christian musicians who helped me to see that music is a gift to be shared with all people and has the power to transform people's lives. And, that this doesn't have to happen at church or a Christian event.
My teenage self would have been immensely disappointed at how un-famous I am today. But even though I'm not a rock star, over the years I've played some pretty funky gigs. I mean how many celebrities have sung in a Thai prison (I was invited by a wonderful prison chaplain in Bangkok) or a makeshift community centre in small-town Italy?
I've lead prayerful songs at many nonviolent protests asking politicians for the release of children from indefinite offshore detention with Love Makes A Way (a movement of Christians seeking justice for people seeking asylum). I will never forget all those candles outside the then Lady Cilento Hospital flickering in early 2016, during a 10-day vigil in support of hospital staff who refused to release a baby girl named Asha to the authorities knowing she would be sent back to Nauru. On one of the vigil evenings, when Anglican clergy and other local multi-faith leaders pledged their support for the hospital staff and Baby Asha, we sang 'Let Them Stay. Sanctuary.'
I've had my fair share of pub gigs, too. One of the highest compliments I've ever received was when a yoga teacher came up to me after a gig to say that he felt my songs had a healing quality about them. In recent years I've performed for Theology on Tap where discussions about faith and life get done in a suburban pub.
Last year I was involved in leading Carols for Creation just before Christmas. The aim was to bring attention to the destructive ways in which corporations continue to needlessly pollute God's wonderful Creation through their involvement in fossil fuel projects in Australia, often aided by short-sighted Government policies. I've been to a few demonstrations in my life, but I've never seen security guards smiling so much at protesters before. It was such a wonderfully creative way to ask a company to divest in destroying our children's future.
Connecting with people through music is my favourite way of living out my faith in Jesus who told us to love our neighbour as we love ourselves. When the COVID-19 restrictions were about to begin in Australia, my long-time musical co-conspirer Frank Kneebone and I were pondering how music could help us get through the months ahead. Live On Mars was created as an online space where people can perform live music to a network of people as a way to bring creativity, hope and joy into people's lounge rooms while they are stuck at home with very few interactions with others.
Since mid-March we've hosted 30 performers from Brisbane, Melbourne, Armidale, Wellington (NZ), Madrid (Spain), London (UK) and Los Angeles (USA), who have had over 50,000 combined minutes of live music watched by people around the world. I love being able to support artists and help them connect with friends, family and new listeners through their music.
I also enjoy nurturing the human connections we are all missing at this time of separation. And even though we could not make up for lost income from cancelled gigs, many of our artists have received viewers' donations in appreciation of their performance on Live On Mars.
Sharing my music outside my comfort zone has given me countless opportunities to connect with others and also live out my faith in God. It is my hope that young Christian artists today are encouraged to practise and share their gifts not only inside the walls of the Church, but out in schools, markets, community festivals, music venues and even online.
May the God who created all things continue to bring forth the creative Spirit in all of us to share with others, whomever they may be. Amen.
Jump to next article