Q&A with retired bush priest, great-grandmother and eternal optimist, The Rev'd Mary Roberts
Meet Mary Roberts and find out about her ministry in the bush, her faith journey and childhood, which person of faith she admires the most and why, and her thoughts on our churches' responses to COVID-19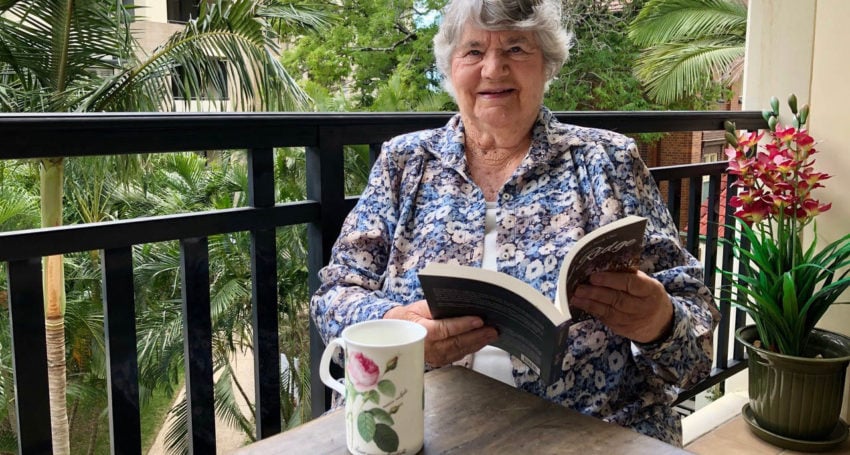 The Rev'd Mary Roberts was ordained in 2001. She has four children, 10 grandchildren and four great-grandchildren. She was born in Quilpie and served in the Western Region as a priest for seven years.
Where do you currently live and where do you worship?
I live in a retirement village in Clayfield, Brisbane. I used to worship at both the Cathedral and at St Mark's Clayfield. I have a bit of trouble physically getting around these days, but now I am completely spoilt for choice with all the services on Facebook, YouTube and Zoom. I can say my prayers with someone else every day now – someone from St Francis College or the Cathedral, our Bishops and even with Bishop Charlie Murry in Newcastle and many others. It all completely blows me away and fills me with such joy and gratitude. This has all come quickly, in haste, as a response to COVID-19. What will come as our churches assess the results and consult and examine what worked and what didn't? I'm sure it will only get better and find its place in regular use.
How long have you been involved in the Anglican Church and in what roles?
Most of my life I have been involved – teaching Sunday School and RE and various adult Bible Studies as well as arranging flowers, cleaning, whatever was needed. It was not a possibility to be a priest until the 1990s and so it was never anything to which I aspired; but, with all the changes, somehow it happened, and it has been a wonder and a blessing which I could never have anticipated. I was ordained to serve in the bush, particularly in the Charleville Parish. When I could no longer drive the long distances required, I moved to Brisbane and my PTO (Permission to Officiate) was with the Cathedral.
What is the name of your current role, including any voluntary roles, and what does your role involve?
The title of my current role is 'Retired'. I'm no longer actively involved. I try not to push my faith, because nothing puts people off more. However, it's surprising how many people are pleased to find someone with whom to have a quiet time – to talk about their problems and discuss questions of meaning and purpose. This gives me a chance to share my faith with others and try to help them find this rock of stability, this firm foundation for their lives – Jesus Christ, our friend, as well as our God and King.
What have been the highlights or best memories of your roles so far?
Some of my best memories would be from being involved with the baptisms of my two youngest, and marriages of my four oldest, granddaughters. Different stories for each one, nearly all in the bush, although one at the beach, which always has special holiday associations for bush people, but each one, incredibly meaningful and special in its own way.
What have been the key challenges of your roles so far and how have you worked through these?
I thought my main challenge would be being accepted by the bush community in my new role as their priest. I thought people would think, "What's she doing preaching to us? She's just one of us, a grazier's wife, not a priest?" But while I was in training, the local clergy were also praying for me with their congregations. This was presented clearly when Fr Gary Harch, who was then the priest in Roma, was going away. He was asking his liturgical assistants to organise Morning Prayer when one of them said, "What about Mary Roberts? We've been praying for her for long enough, why can't she come? Let's see her in action."
Can you tell us a little about your personal faith journey?
I was a cradle Anglican with a firm belief in God. This was shattered by the death of my mother in my early teens, when I decided that, "There can't be a God if this could happen." My father had died when I was a baby, so I felt alone, frightened. But when I looked at the wondrous world around me, I thought, "This just couldn't all be here by some strange accident. There has to be a creator – a God – but I'm not sure what he is like." I devoted my teenage years to trying to find out the nature of that God. Although I was angry, and hurt, and trying to lash out and blame some sort of nasty and vindictive God, it didn't take long to find Jesus again, a personal, loving, caring God in my life. And I've spent the rest of my life trying to follow Him as best I can.
How does your faith inspire you and shape your outlook, life choices and character?
I have no idea. Faith has always been such a big part of my life, I'm sure that whatever I am, my life choices and character, have been largely influenced and shaped by that. I can't imagine what it might have been without it. We can never know God fully and I am still trying to know, love, understand and serve him better.
What is your favourite scripture and why?
I think John 3.16 is the very heart of the gospel. It sums it all up.
"For God so loved the world that he gave his only Son, that whosoever believes in him should not perish but have eternal life."
It explains the whole bit – Christmas, Easter, everything. Salvation comes from this wonderful God who sent his Son because He loves the world, not for some favourites, not for someone special, but for each and every one in the world.
What person of faith inspires you the most and why?
Retired ACSQ priest Bruce Henzell inspires me. He demonstrates a Christ-like love in his actions – in his priestly duties and in his everyday life. I often heard Bruce say as he approached a problem, "How can we approach this in the most loving way?"
How have you seen the Church adapt to help keep parishioners engaged and connected, as we shelter in our homes and maintain physical distancing to keep our communities safe?
The innovative and thoughtful ways our clergy have adapted and are approaching worship and communication in these extraordinary times have been remarkable. I was happily expecting something adequate, makeshift perhaps, and infinitely better than nothing to emerge. But now that I have seen what has been done, I am blown over with admiration. There are so many wonderful, meaningful and touching services and so many effective ways have emerged to communicate with and to help and involve others.
How have you seen the Church contribute to the broader community in response to the challenges of the COVID-19 environment?
The Church is trying to introduce the love of Christ to people in our community, letting them know by our actions, not just our talk, that we have this gift of loving acceptance and hope that Jesus has given us and that it has the potential to restore lives and cope with whatever problems we face. We need ministry within the Church to build up the body of Christ; this strengthens us and equips each of us to reach out, from wherever we are, to use our gifts whatever they might be, to be Christ to those who are in need of comfort, support and reassurance.
What are the primary strengths of the Church and what is the best way to make the most of these for the benefit of our communities?
The strengths of our church are the love of Christ and the strength of the Spirit. We have work to do, we are his hands in the world, but when we think we know all the answers and forget to be guided by the Spirit, that's when we go astray, waste so much time and make so many mistakes. The world is hungry for what the Church has to offer, and we have to find a way to let people know about the love of God and the help and strength he gives. We need to use these strengths to help people find love and companionship, a sense of belonging with good news of help for people struggling financially, healing for the sick and inclusion for the marginalised.
What are the primary challenges currently encountered by the Church and what is the best way to overcome these for the benefit of our communities?
The Church can't help but be challenged by the huge changes in the way society interacts in recent years and the current COVID-19 situation has highlighted our need to change to meet the needs of our time. We must live by the Spirit and encourage others in good will and openness, seeking out what is important and giving thanks for all the signs of grace. People don't understand the Church. We need to present it more clearly. We have to find ways to reach people, to help everyone know Jesus – not just know about him.
What is the kindest gesture you have ever received or witnessed?
When my husband was dying, Sally Gorman, the 'Matron' of the First Aid Hospital in our small town Morven, which is seven hours' drive west of Brisbane and home to less than 200 people, went way beyond any call of duty and was extremely kind to my family. On what proved to be his last evening, he was in great distress. Even though it was way out of hours, we rang Sally for advice. She didn't just advise us – she immediately came out to the property, examined him and rang the doctor, who lived 100km away, to discuss treatment. Even after that, Sally stayed with us until he died, well into the early hours of the morning. It was a wonderful help to us and such an act of kindness.
What is the best piece of advice you have ever received and who gave you this advice?
My mother told me that there is something good in everyone and if I couldn't find it there was something wrong with me, not them; so I'd better get my mind right. Of course, this fits with Christ's instruction to love everyone as we love ourselves. I do try to see the best in everyone, and I firmly believe that God loves us all equally, so if I have a problem with anyone, I do try to get my mind right and see them through the love of Christ.
What do you do in your free time to recharge and relax?
I like to find a good book to read. As you settle down and get comfortable, you merge into their story, losing any of your worries or cares, and come back to your own life relaxed and recharged.
What is the funniest thing that has happened to you recently?
Prior to a burial, which was to be held in the old part of the cemetery in Charleville, I was trying to work out where the mourners could stand, to avoid anyone standing on other graves in that very crowded area. I was still casually dressed and, probably, it looked rather odd. A council worker came across to me and said rather sternly, "What are you doing?" Trying to explain I said, "I am the priest who is going to take the funeral here later on." He looked at me sceptically and said doubtfully, "You don't look like any priest I've ever seen."
What book have you given away most as a gift and why?
I love to share C.S. Lewis' books and what he has to say; but the one I have given most is Beginnings and Endings with Lifetimes in Between by Bryan Mellonie and Robert Ingpen. It is a wonderful book for families – the adults, as well as children. It's a celebration of living, as well as sensitive discussion about death.
Where do you do your best thinking?
Anywhere quiet. I can't think in crowds. Somewhere with greenery and nature around – on the veranda in the shade in the summer or in the sun in the winter, with a good cup of tea sounds good.
What's your best childhood memory?
It's hard to choose because I was blessed with a happy childhood. But I will nominate that, possibly, watching my mother ride her horse, Paddy, in the main ring at the Ekka was a standout time and, probably, the anticipation that we would go around sideshow alley later as well.
What makes you nostalgic and why?
Photos my son sends from his iPhone. He always has it out in the paddock, more for contact than anything else, but when he sees something of interest he clicks away and texts it to us – all the family. I love the photos. I miss being out there in all that space with the big skies.
What day would you like to re-live and why?
Any day when all my family were gathered together.
Jump to next article