Our call as a baptised people during Advent
"At my Parish of Sandgate-Northpoint, I once witnessed a baptism where a young child with the hugest of smiles was taking in all around him, aware that something very special was happening. I observed how laid back this child was, despite the buzz of activity, accepting the baptism and the ensuing applause with grace," says Margaret Humphries from GFS – An Anglican Ministry and the Parish of Sandgate-Northpoint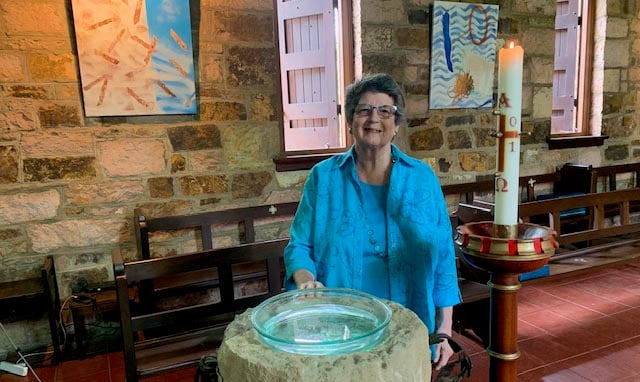 My baptism took place at the parish of St John The Evangelist in Footscray, Victoria when I was six months of age. I do not recall the event, of course, and there were no photos taken of the day, but my baptism certificate reminds me of my early years of faith.
At my Parish of Sandgate-Northpoint, I once witnessed a baptism where a young child with the hugest of smiles was taking in all around him, aware that something very special was happening. I observed how laid back this child was, despite the buzz of activity, accepting the baptism and the ensuing applause with grace. He is an adult of the future – one of love and humility, I hope.
Our call as a baptised people is to repent of our wrongdoing and to be reminded of the sacramental call to holiness. Advent is a special time for this repentance and reminder. Through the promises made, either as children on our behalf or as adults, we accept baptism as a gift of God's grace allowing us to be people of light to shine in the world like a beacon guiding us to an other-centred life.
The Holy Spirit anoints us to be followers of God's son Jesus Christ. Jesus is the reason we hold on to faith, as we believe that he is the God of life. Being a disciple of Christ is to lead by example through love, compassion, faith, hope, knowledge and wisdom. We are given a freedom of spirit to love God wholeheartedly, to sing his praises as a faith community and to study his Word until our last breath.
As humans, we all do wrong things. However, the waters of baptism cleanse us of our wrongdoings. Baptism is like Advent – they are both times of preparation. John the Baptist urged people to repent of their wrongdoing, baptising them with water, proclaiming that "one who is more powerful than I is coming after me" (Matthew 3.11). The one who was to follow was Jesus. When John met his cousin Jesus, he recognised that he was sinless and asked for Jesus to baptise him, but Jesus insisted that John baptise him in order to prepare the way for him to fulfil the scriptures. After Jesus' baptism, he spent time in the desert preparing for his ministry.
Mary and Joseph also had a time of preparation as they expected their son. Mary accepted the challenge before her – to bear, birth and raise her son, who was to do what no other could. In the Advent season, Christians prepare for Jesus' birth in practical ways, including lighting an Advent wreath, praying a daily Advent devotional, setting up Christmas trees, decorating homes and churches and keeping an Advent calendar in anticipation of the arrival of the baby Jesus.
May the love of God and His eternal son bring peace and joy to you this Advent.
Jump to next article