Q&A with father of eight, formation student, Liturgical Assistant and former refugee, Peter Jongkuch
Meet Peter Jongkuch and find out about his current activities, why he wants to be a priest, his thoughts on Reconciliation and "Being Together: Embracing Joy", his favourite scripture and what secret skill he learnt in the Kakuma Refugee Camp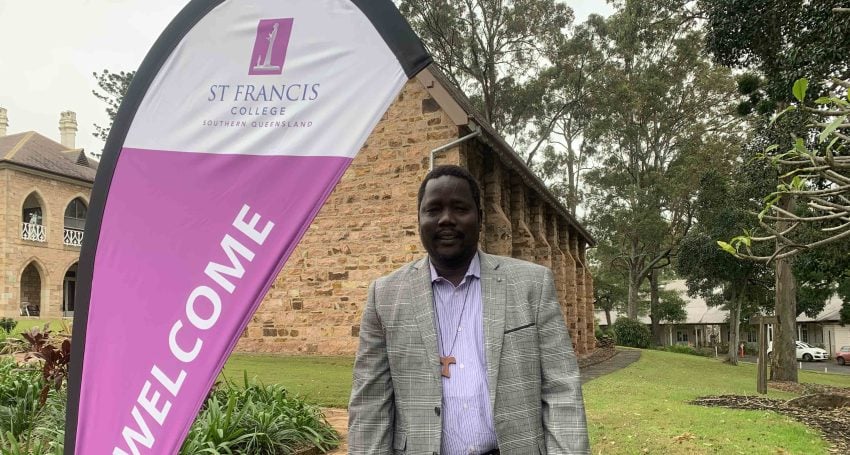 Where do you currently live and where do you worship?
I live in Ipswich with my wife, Elizabeth, and eight children. We worship at St Andrew's, Springfield.
How long have you been part of the Anglican Church and in what roles?
I worshipped in the Episcopal Church, which is part of the Anglican Communion, before I came to Australia. I came here as a refugee in 2007 after spending 15 years in Kakuma Refugee Camp in Kenya. I grew up in the camp with formation student Mamuor Kunpeter and Bishop Daniel Abot, who are also both former Lost Boys and former refugees.
I am a second year formation student at St Francis College and a Liturgical Assistant at St Andrew's, Springfield.
What projects and activities are you currently working on?
At the moment I am studying the Reformations with Dr Sheilagh O'Brien and Practical Theology with The Rev'd Dr Wendi Sargeant. As part of my formation, I am observing ministries at St Andrew's, Springfield, including children's ministry, so I can see how parish ministries work.
I just spent a weekend with other formation students, which was led by The Rev'd Canon Sarah Plowman, who is the Director of Discernment and Formation. On the weekend we had leadership training. We gathered with The Parish of Kenmore-Brookfield congregation for the Sunday service.
What are your plans and goals for the next 12 months?
I plan to preach four times at St Andrew's, Springfield. I will also be visiting parishioners in their home to provide pastoral care with The Rev'd Charlie Lacey, who is the priest at St Andrew's, Springfield.
What has been one of the highlights of your time as a St Francis College formation student so far?
When we were commissioned as formation students in the Chapel of The Holy Spirit in 2021. During this service, we were given a St Francis Tau cross each. The Tau cross represents the Franciscan community and its shared values of devotion to Christ, simplicity and joy.
Why is studying theology important?
It's important because we need knowledge about Church history, humanity and God.
What advice do you have for those considering ordained ministry in our Diocese?
I would encourage people to study theology.
Why and when did you become drawn to ordained ministry?
In 2009 I was blessed to become a Liturgical Assistant. From there I was encouraged to become more involved by the South Sudanese community. So I decided to become a priest so I can administer the sacraments.
What do you enjoy most about studying at St Francis College?
I enjoy meeting different people in my classes. The staff are also very friendly and supportive.
2022's Diocesan theme is "Being Together: Embracing Joy". What are some practical ways that we can celebrate the way differences help to make us whole and the importance of diversity in our unity?
Preach the Word of God. When we preach the Word of God we show the love of Jesus. We can also gather together over food and pray together and sing together before we eat.
Why is Reconciliation with First Nations peoples important?
It's important because it brings the whole nation together. It also recognises the country's history
Can you tell us a little about your personal faith journey?
I am a first generation Christian. I was baptised in 1988 at the age of 15 after fleeing to Ethiopia. I went to all the church activities in the refugee camp there. We were there for four years. That was the camp we went to before we walked to Kakuma Refugee Camp in 1992 after the Ethiopian government was overthrown.
What is your favourite scripture and why?
"Finally, brothers and sisters, farewell. Put things in order, listen to my appeal, agree with one another, live in peace; and the God of love and peace will be with you." (2 Corinthian 13.11)
This is my favourite scripture because when there is peace, there is no suffering.
What person of faith inspires you the most and why?
The retired Bishop of the Diocese of Bor, Nathaniel Garang Anyieth. He helped bring peace to South Sudan and he brought a lot of people to Jesus.
What is the kindest gesture you have ever received or witnessed?
Whenever people gather to pray for those impacted by war, such as for the people of Ukraine.
What do you do in your free time to recharge and relax?
At the moment I am working full-time hours as a cleaner in a meat factory at night. I am also studying part-time. I also have eight children and community responsibilities. So I don't have a lot of free time.
What is the best piece of advice you have ever received and who gave you this advice?
When I left Kakuma Refugee Camp in 2007, my uncle advised me to always be a peacemaker.
If you could have a billboard with any text on it, what would it say and why?
"Be a peacemaker." Peace is one of the most important things.
Where do you do your best thinking?
On Sunday after the morning service, I go home and reflect on the week before.
What is your best childhood memory?
When I was with my mum in the village before I fled to Ethiopia. She brought us up because our dad was killed when I was very young. She was the family breadwinner. She worked as a cattle and goat farmer. My mum passed away in 1986.
If you could only eat one thing for the rest of your life, what would that be?
Milk because it reminds me of home and growing up with my mum.
What is your earliest memory?
In 1981 when I began my schooling. We were under a big tree. That tree was our classroom. We wrote Arabic letters in the sand because we didn't have pencils.
If you are having a bad day, what do you do to cheer yourself up?
I go for a walk around my suburb.
What is your secret skill?
I am a cabinet maker. I learnt carpentry skills in Kakuma Refugee Camp. I can make beds, doors and coffee tables.
What day would you like to re-live and why?
The day I arrived in Australia. When I came to Australia, I found peace and was able to rebuild my life with my wife and children. Seven of my children were born in Ipswich. My first child was born in the refugee camp.
What item should you throw out, but can't bear to part with?
I should throw out some African clothes that I brought with me from the refugee camp. They don't fit me anymore, but I still keep them.
Editor's note: August is Vocations Month. Vocations Month is intended to stimulate discussion about vocations to ministry. Activities this year include the walkLIFE Vocations hike from Mt Coot-tha to the Cathedral on 10 August (Ekka public holiday – please note date correction) and Seekers Day at St Francis College on 3 September. Visit the Anglican Church Southern Queensland website for more information or email The Rev'd Canon Sarah Plowman directly at sarah.plowman@anglicanchurchsq.org.au
Jump to next article