A glimpse of the kingdom
"What can we learn from a school gathering that authentically celebrates all its students — Indigenous and non-Indigenous alike? Might it be that if we truly recognise, reconcile and honour the past, it will unify us all?" asks Bishop John Roundhill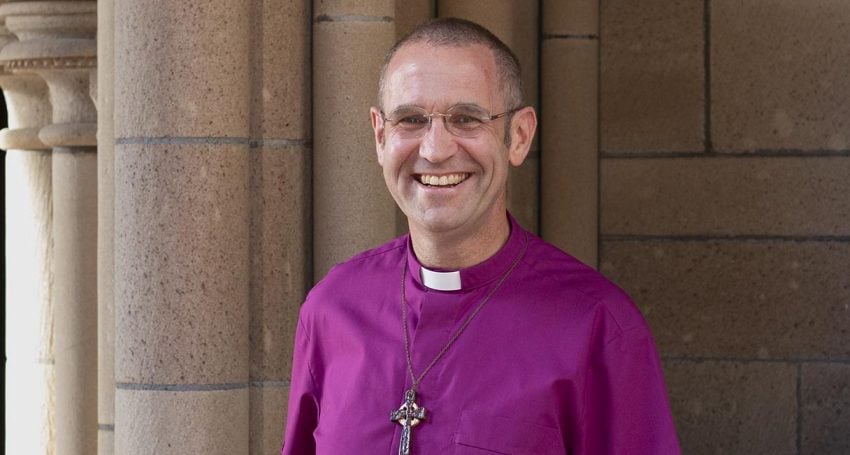 United Nations Day was recently celebrated at Canterbury College, an Anglican co-educational school in Waterford. This day is commemorated annually to recognise the College's multicultural community, and year on year the celebration gets bigger.
I was delighted to join in the festivities and say a prayer of blessing and felt overwhelmed by how powerful the occasion was.
I was metaphorically sandwiched between a smoking ceremony and Welcome to Country given by three Mununjali Elders  — Aunty Geraldine Page, Aunty Del Paulson and Aunty Ros Yuke — and a parade of pupils carrying 61 flags they were connected to. Many of these students were in national dress. It was gobsmacking to see student after student excitedly carrying a colourful flag, all headed by the Aboriginal flag, the Torres Strait Islander flag and the Australian flag.
Parents and caregivers brought food from dozens of different countries. There were stalls offering food from all around the world, including curries, burgers and plantains, amongst others. In a moment of nostalgia, I joined College community members at a table with a Union Jack and enjoyed a cup of rice pudding. This brought back memories of my childhood eating cold rice pudding on a Monday at home in Yorkshire — such is the power of taste.
Finally, there was dancing and performances. College community members from different First Nations, the Cook Islands, Tonga, Samoa, African countries, Hawaii, China, South Korea, India, Peru, Cambodia and Afghanistan spent countless hours preparing so they could share their culture with us. The students' passion for their cultures and communities was stunningly evident.
It was a powerful celebration that honoured both the students' ethnicities and cultural heritage and the school's Anglican foundations.
Seeing the Aboriginal, Torres Strait Islander and Australian flags and the Union Jack at the same event reminded me that we still have much work to do in the Reconciliation space — we are living on colonised land that has been walked on and cared for some 70,000 years.
Was this Canterbury College celebration a glimpse of how we might one day be in this country — a country that truly recognises its long and recently painful past, while celebrating its rich multiculturalism?
At the recent Anglican-Roman Catholic Clergy Day, Quandamooka man Dean Parkin talked about how recognising Aboriginal and Torres Islander peoples in the Constitution will "lead to a fuller expression of Australian nationhood" by helping to connect all of our stories.
At the end of the book of Revelation, there is an image of the New Jerusalem descending from heaven, a place that has no temples, and so has no priests (Revelation 21.22). I have always delighted in saying that in the Kingdom of Heaven there are no bishops or priests or deacons. Equally in the Kingdom of Heaven, we are all children of the one life-giving, liberating and loving God.
What can we learn from a school gathering that authentically celebrates all its students — Indigenous and non-Indigenous alike? Might it be that if we truly recognise, reconcile and honour the past, it will unify us all?
Jump to next article