Inter-faith leaders gather in St John's Cathedral to pray for the people of Palestine and Israel
Senior inter-faith representatives gathered with wider community members at St John's Cathedral on Wednesday to pray for the people of Gaza and Israel during the ongoing conflict and for a blessing upon peacemakers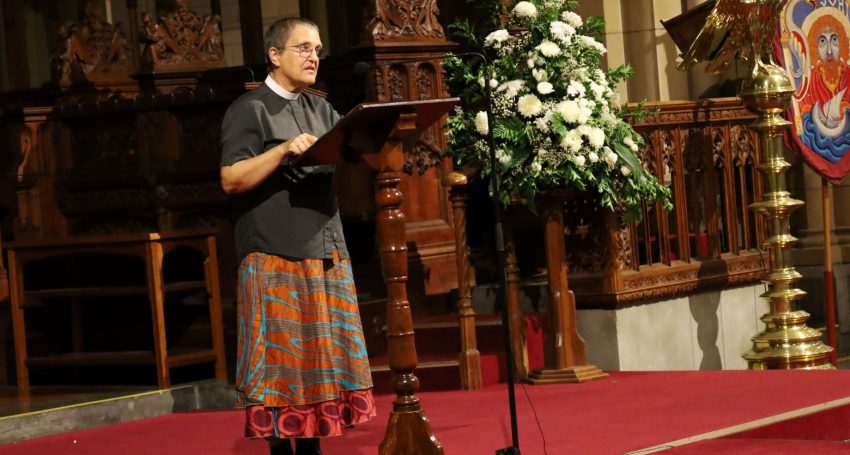 Senior inter-faith representatives gathered with wider community members at St John's Cathedral on Wednesday to pray for the people of Gaza and Israel during the ongoing conflict and for a blessing upon peacemakers.
Queensland Muslims Inc community engagement representative Majid Khan, Queensland Jewish Board of Deputies interfaith chair Gail Paratz OAM and former dean of Jerusalem's St George's College The Rev'd Dr Greg Jenks gathered with fellow inter-faith leaders and other community members in intercession.
Following the vigil, Mr Khan said that gathering together in intercession fosters unity and orientates people towards justice and peace.
"I believe it is so important to come together as community, as one, as brothers and sisters in faith, in collective prayer because it strengthens our bonds, bringing us back to the focus of pleasing our Lord and our shared belief that we stand for justice, peace and dignity for all," Mr Khan said.
"I am reminded of the saying of the Prophet Muhammad (peace be upon him) who said, 'None of you truly believes, until you wish for your fellow brother/sister, that which you wish for yourself', so may we be amongst those people who wish good upon all, just as we would wish good upon ourselves. Ameen."
The vigil included prayers from the Jewish, Christian and Muslim traditions, as well as periods of silence.
Interfaith Chair at the Queensland Jewish Board of Deputies Gail Paratz OAM said that it's important for people of diverse faiths to intercede together because it shows that peace is achievable.
"When we come together in vigil, it provides reassurance that with good will and good intent, peace amongst diverse communities is possible," Ms Paratz said.
Prayer spaces were set up for silent reflection between the inter-faith leaders' prayers, including a large labyrinth for walking, a candle-lighting stand and a reflection-writing space.
The Rev'd Dr Greg Jenks, formerly dean of St George's College in Jerusalem, said that praying together orientates those gathered to focus on one another's wellbeing.
"Reconciliation and peace matter to everyone, but especially people of faith," Dr Jenks said.
"As we gather for vigil and prayer we express our solidarity with each other and our religious obligation to seek each other's wellbeing."
The event was also organised with the support of the Queensland Faith Communities Council and Queensland Churches Together.
Senior students from several local Catholic schools, including Marist College Ashgrove and Padua College, joined in the vigil along with teachers in ministry and mission roles.
Marist College Ashgrove students Marley Chan, Dominic Forbes, Isaac Roach, Hugo Tully lit candles and, following the vigil, shared that prayer fosters compassion and healing.
"It is important for people from different faiths to come together to pray because it fosters unity and compassion and promotes understanding among diverse communities, allowing us to recognise our shared humanity and common spiritual values," the students said.
"Additionally, it provides an opportunity for us as Catholics, as Marists, to acknowledge that collective prayer has no religious boundaries; it calls on God's mercy, peace, and healing, serving as a powerful force for reconciliation and hope, particularly during times of conflict.
"It allows us to embrace all people irrespective of their religious background, as we recognise the dignity of the human person in these, our neighbours, who are our brothers and sisters."
Editor's note: If you are able, please donate to the Anglican Board of Mission AID Gaza hospital emergency appeal. Hundreds of people taking shelter in the Anglican-run hospital were killed by a rocket blast earlier this month. Your donation to this appeal will contribute to the following:
Urgent medicines: $55,000
Medical consumables: $40,000
ICU equipment: $32,000
Fuel (10,000 litres): $27,000
Extra staff: $47,000
Psychosocial support for patients and their families: $24,000
Food for patients and Internally Displaced People: $21,000
Jump to next article