Bridging the sacred and secular
"While disruptive, retiring from Diocesan ministry held the promise of new vistas, as we needed to develop separate identities apart from 'priest', 'priest's wife' and 'priest's daughters'. I found this quite liberating," says The Rev'd Karol Misso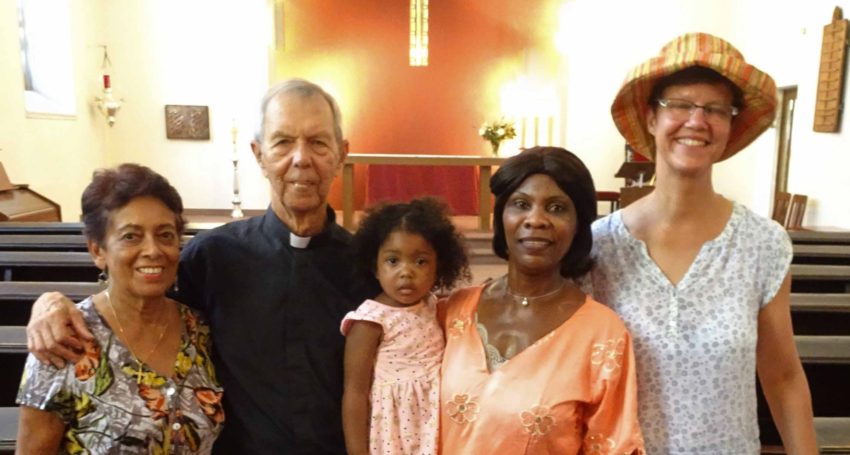 Story Timeline
Clergy reflections on 'retirement'
My wife Deanna and I returned from Hong Kong where I worked as Director of St John's Counselling Service from 1990 to 1994. In Hong Kong, I also had many opportunities to contribute to a rich Anglican liturgical life, including presiding and preaching to a regular Sunday congregation of over 200 parishioners.
After our return, I had an interview with the Archbishop. While exploring possibilities for future work, I indicated that I did not wish to return to ministry in a parish or other Diocesan appointment. The Archbishop was supportive of this decision and gave me his blessing to seek work in the secular field where I could use and develop the skills and academic knowledge I had acquired in psychology and counselling, as there were not any opportunities for such work within our Diocese at the time.
He gave me a clergy licence, known as 'Permission to Officiate' (or 'PTO'), and this encouraged me to  step out with confidence to continue my ministry in the secular world. Although I still had 10 years before formal retirement, this was a significant transition in my life. I saw it as a great and exciting challenge, but not without its initial uncertainties and anxieties.
I discussed this ministry shift with Deanna, for it heralded a major change in her life, too. Hitherto, her own life had been very much immersed in the parish. As a consequence, our friendships and social life as a family were linked with the parish. Work in the secular field meant a significant disruption of this pattern, which had existed ever since my ordination in Sri Lanka in 1965. Our adult daughters, Deanna and I had to adjust to different lifestyles.
While disruptive, retiring from Diocesan ministry held the promise of new vistas, as we needed to develop separate identities apart from 'priest', 'priest's wife' and 'priest's daughters'. I found this quite liberating. Others could now relate to me more easily as a friend and colleague, without the traditional reservations. This new environment offered a degree of freedom that contributed to the further development of my personality. I am sure it had a similar impact on other members of the family, with all of us having to adjust to cope with our new 'identities'.
After securing suitable employment and adjusting to many new changes (and new) and unfamiliar demands, which were not without inherent anxieties, the next major hurdle was finding permanent accommodation. This was a new ball game. Since our marriage we had lived in three different countries and eight different houses chosen for us. We were now confronted with the difficult task of purchasing a house and equipping it with all the basic necessities. This being a totally new venture, it was good fun but somewhat scary at times. However, with time it became quite exciting – having our own home after 30 years of married life! One advantage was that it was just for the two of us, as our daughters were quite independent and at best occasional visitors!
Locating a suitable suburb, contributing to the design of the house and purchasing furniture, curtains and floor coverings were a real challenge. Long hours of shopping, many disagreements, doubts about choices and dealing with unpleasant salespersons were all part of the new suburban lifestyle we were entering into in the sixth decade of our lives. The variety of colour we had chosen throughout the house was a talking point among the tradies.
During these years we also had the freedom to travel extensively and widen our horizons. Having registered with the Diocese in Europe, I was invited to do locum placements in Anglican chaplaincies in Morocco, Spain, France, and Germany. Ministering to these small congregations and interacting with a varied cross section of Christians (not all Anglican) were rich experiences for Deanna and me. Conducting a funeral in Costa de Sol in the south of Spain was interesting – with a basic Church of England liturgy in a little chapel on a hillside, no eulogies or slide shows, just 20 mourners and a simple coffin (the British born wife of the deceased initially requested a silky oak coffin, but was told she would have to import it from England!).
My new field of ministry as a university lecturer and counselling therapist proved to be most rewarding. I developed many mutually enriching friendships, which contributed to my personal growth and identity in the latter stages of life. I received generous appreciation from mentors, colleagues and students, including a tourist resort voucher and a useful 'screen pointer', discreetly placed in my mailbox.
Now in 'real retirement', I look back with much gratitude that I was given the opportunity to help many not only with their academic achievements, but also in their personal development and journey towards wholeness, which I believe is what ministry is all about.
I have also had the time and privilege to develop more mature relationships with Deanna, our daughters and our grandchildren. The latter bringing new meaning and impetus to our lives. I recall many humorous anecdotes, such as my four-year-old grandson saying to Deanna, in the course of something his teacher had said, "Grandma you are old now and your brain cells are not as good as my teacher's." On another occasion we noticed Dominic trying to follow the dog out of the pet mesh door in the bathroom! It sure is a delight for us to spend quality time with the grandchildren.
Editor's note 8 March 2021: A number of forthcoming online events, hosted by PMC, will be held for clergy related to retirement, finances and superannuation. Online event page links will continue to be added to the below dates. In the meantime, please save the September dates. 
Wednesday 28 April 2 – 3.30 pm: Talking about clergy retirement (Register online)
Tuesday 4 May 2 – 3.30 pm: Superannuation (Register online)
Wednesday 12 May 2 – 3.30 pm: Thinking about your finances (Register online)
Jump to next article