My hairdresser call to the priesthood
"Sometimes going to the hairdresser can be unexpectedly life-changing. For about a year, people in my community had been urging me to explore a calling to ordained ministry. However, when my hairdresser, who is not religious, said, 'You know what? You should become a priest!', I knew I had to start paying attention," says Melissa Conway, who is soon to be ordained a deacon and appointed as assistant curate at St James', Toowoomba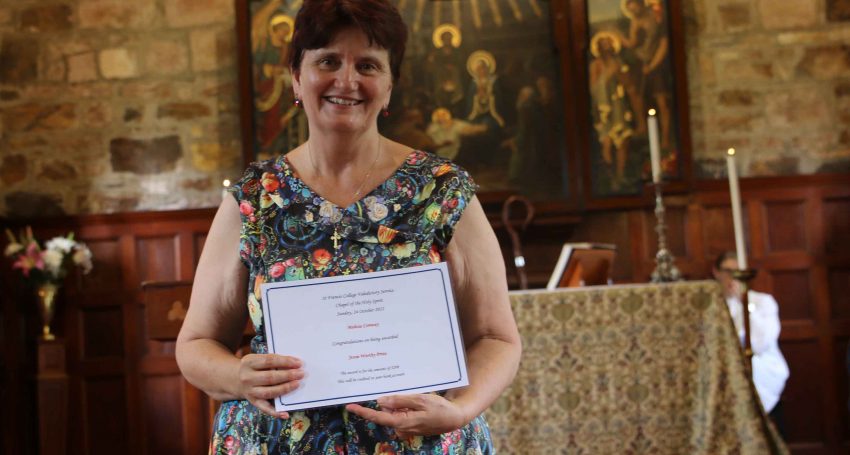 Sometimes going to the hairdresser can be unexpectedly life-changing. For about a year, people in my community had been urging me to explore a calling to ordained ministry. However, when my hairdresser, who is not religious, said, "You know what? You should become a priest!", I knew I had to start paying attention. And, Nina wasn't the only non-religious person to make this suggestion around that time. By then, I had already received enough encouragement to attend a Seekers Day in 2017, and so I took the next step and accepted an invitation to go into discernment the following year.
For me, the key to responding to my call was the voice of my community, within and outside the Church, more so than my inner dialogue with God or any astonishing revelation. I was newly divorced, and having watched my now former husband journey to ordination when we were married, I had a fair idea of what was ahead of me. So, I decided that I would just discern my way, one step at a time.
I grew up in a Christian home. Mum was Anglican and Dad is Catholic, However, the biggest influence on my early faith was my maternal grandmother, who shared with me her simple love of the Bible, particularly the Psalms. I still have her tiny prayer book, which I treasure.
When I was in primary school in Toowoomba, I realised that the Catholic children were getting a better level of religious instruction. So I exercised my right to be Catholic, went to religious instruction, and then made my first reconciliation (confession), my first communion and then my confirmation in the Catholic Church. It wasn't until my husband discerned his call to ordained ministry, much later, that we joined the Anglican Church. However, in the meantime we were very active in our faith, particularly in music ministry, prayer groups and catechumenate.
When we joined the Anglican Church, in The Parish of Chermside, we became even more engaged in parish life. As a lay person I have undertaken all the liturgical roles, parish councillor, nominator, warden, small group leader…you name it!
From an early age, faith has been integral to my life. I see God all around me and God's actions evident in so much of what goes on, as I experience those "Holy Spirit moments"  – sometimes to the point that I find it hard to stay upright.
I worked as a public servant for almost 40 years, 36 of those in what are best known as Centrelink and Medicare. When I left, I told my colleagues that I was leaving a job serving the people of Australia to serve the people of God, which, as it turns out, are the same people. I loved my job and the people I worked with and for, but the time was right to live more fully into my faith.
So, after two years studying part time, I was able to study full time from the beginning of 2020. I'm now at the end of my degree and can look back on an incredible learning experience with teachers and fellow students who inspired my learning, helped me deepen my faith and theological perspective, and gave me opportunities to develop my skills in all facets of College and parish life.
St Francis College is described by so many people as "an oasis in the city" and that's so true, in both a geographical sense and in a deeply spiritual one. Living onsite for over three years has been a highlight of my training and my growth as a person. After finishing work, I was able to engage fully in the daily rhythms of College life, particularly chapel worship. We even made it work during lockdowns, with livestreamed worship becoming a haven for many people, including those beyond our Diocese.
As I write, I'm just weeks away from my ordination as a deacon – I have a countdown app on my phone telling me exactly how many days. My degree and formation training are completed, and now I feel a bit like a bride preparing for a wedding. I even have dress fittings to attend. Close to me in these preparations, in a virtual sense, are my three cohort colleagues, Gary, Loretta and Lorraine, who have been on this journey with me since the 2017 Seekers Day.
Shortly after ordination, I'll be taking up a position as assistant curate at St James', Toowoomba, based at St Anne's, Highfields. Returning to Toowoomba is a kind of homecoming, but I'm also going to miss the closeness to my grown-up children, grandchildren, dad and siblings, who are all based in Brisbane.
However, I'm so excited for the opportunities that await me in Highfields and the community there is already making me feel loved and welcomed. I know I'm wrapped in love and prayer and that God is in the midst of it all. Having been called from and by community, what I most look forward to is listening and responding to my new community, growing new disciples and making the kingdom of God a reality in daily community living.
For anyone who is considering their call, my advice is to take one step at a time, listen, and enjoy the process and the journey. It will happen in God's time and with the discernment of many people surrounding you with love and prayer.
To find out more about vocational discernment, please email The Rev'd Canon Sarah Plowman via sarah.plowman@anglicanchurchsq.org.au or visit the Anglican Church Southern Queensland website.
If you would like to know more about studying theology, come to the St Francis College Open Day and find out about the wide range of study options. Visit the St Francis College website to register or for more information. The virtual Open Day will be held on Tuesday 2 November at 7 – 8.30 pm and the on-campus Open Day will be held on Thursday 4 November at 12 noon – 2 pm and 5 – 7 pm.
Jump to next article