How the churches' sanctuary offer shone a light on the detention centre regime, turning the tide for people seeking safety
"While preparing for the hastily organised sanctuary liturgy all those years ago, I vividly remember looking for vigil candles. As I picked up a box of 100 candles in the storage room, I looked at them hoping that enough people would turn up to light them all. Later that day, as more and more people arrived at the vigil, I had to keep bringing additional candles out from storage for people to light. In the end, 1,500 people turned up. I have never been happier to be 500 short of anything in my life," says The Very Rev'd Dr Peter Catt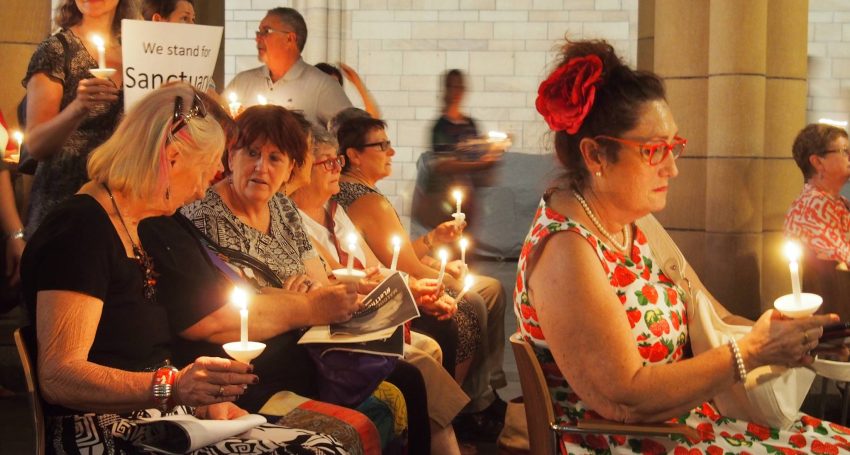 The "sanctuary" practice has roots in ancient scripture, such as in the story of the midwives who defied Pharoah's orders that all Hebrew boys be killed at birth. It has continued historically as an effective way to protect people whose lives are at risk; for example, to protect slaves who fled via the 19th century Underground Railroad in the United States, Jews in wartime Europe and East Timorese people living in Brisbane in the 1990s.
In early 2016, Christian denominations around the country, including many Anglican churches, offered sanctuary to people who were being threatened with deportation by the Federal Government back to detention centres on Manus (in Papua New Guinea) and Nauru. These people were living in "community detention" in suburban houses while receiving medical treatment or while accompanying their sick children after they were medevacked here. Dozens of the babies and toddlers who were medevacked for care in our hospitals were born in Australia before they were sent to Nauru. This group of people also included pregnant women or women who had been sexually assaulted while in immigration detention on Nauru.
Later that year, more than 2,000 leaked Government incident reports, known as the "Nauru Files", confirmed what we already knew – that self-harm, suicide attempts, sexual and physical assault and trauma were rife. Shockingly, more than half of these incident reports involved harm done to children.
At the time, I was the Chair of the Australian Churches Refugee Taskforce (ACRT) working with the Human Rights Law Centre lawyers to make the sanctuary offer as structured, strategic and safe as possible. St John's Cathedral was considered "Sanctuary HQ" nationally, partly due to my role as ACRT Chair and partly because it was the largest church to offer sanctuary.
The offer of sanctuary was highly effective, with not a single refugee from this cohort deported back to either Nauru or Manus. Some refugees in this cohort have now integrated into communities in the United States, with more to join them. Others remain here and so the sanctuary offer remains in place for them. However, it is highly unlikely that it will need to be sought given that even the then Minister for Immigration Peter Dutton said in 2017 that the Government would not be "dragging people out of churches".
The sanctuary movement, along with "Baby Asha" who was cared for and protected by courageous staff at the then Lady Cilento Hospital after she was accidentally burned on Nauru, had an enormous impact on how people around the country viewed offshore detention. As a light was subsequently shone into the dark places of the offshore detention centre regime, we found our humanity. In doing so, the tide turned – ordinary people spoke up and our elected representatives started to listen and respond.
Six years on, I would like to thank all the Christian churches and organisations who took a risk and offered sanctuary to this highly vulnerable group of innocent people. The strength of the sanctuary offer was built upon this special solidarity.
I would also like to acknowledge local South East Queensland community members who supported the sanctuary offer, including those who joined in the Cathedral sanctuary prayer vigil in February 2016. Many of these people had never been to a church before or had stopped going to church many years prior.
While preparing for the hastily organised sanctuary liturgy all those years ago, I vividly remember looking for vigil candles. As I picked up a box of 100 candles in the storage room, I looked at them hoping that enough people would turn up to light them all. Later that day, as more and more people arrived at the vigil, I had to keep bringing additional candles out from storage for people to light. In the end, 1,500 people turned up. I have never been happier to be 500 short of anything in my life.
Last month the deportation of professional tennis player Novak Djokovic brought attention to the more than 60 people who have been warehoused in hotels and "transit accommodation" around the country. Nearly all of these people were found to be refugees under the law more than eight years ago, yet they remain indefinitely detained. They have become collectively known as the #SetThemFree cohort, with churches around the country advocating for their release.
They, too, have been medevacked from Nauru and Papua New Guinea. And, they, too, need our help – including our prayers and our willingness to speak up.
Three things we can do to help
Pray that those being indefinitely detained in immigration detention in hotels and "transit accommodation" around the country will maintain hope.
Pray that our Federal elected representatives, especially those in Government, will show fairness and compassion and release these people into our communities.
Write to or call your Federal elected representative and the Minister for Immigration and the Minister for Home Affairs and tell them that you want these people immediately released from immigration detention.
Jump to next article