Maranoa Warrego Anglican Mission Area remembered
"We Anglicans in the Maranoa and Warrego Regions have learned much from the foundation of the first Mission District (later Mission Area) of the Anglican Church Southern Queensland. We have learnt that new ministry models need to be developed in an ongoing way, requiring flexibility as the needs of an area change," says Jennifer Crocker from The Parish of Mitchell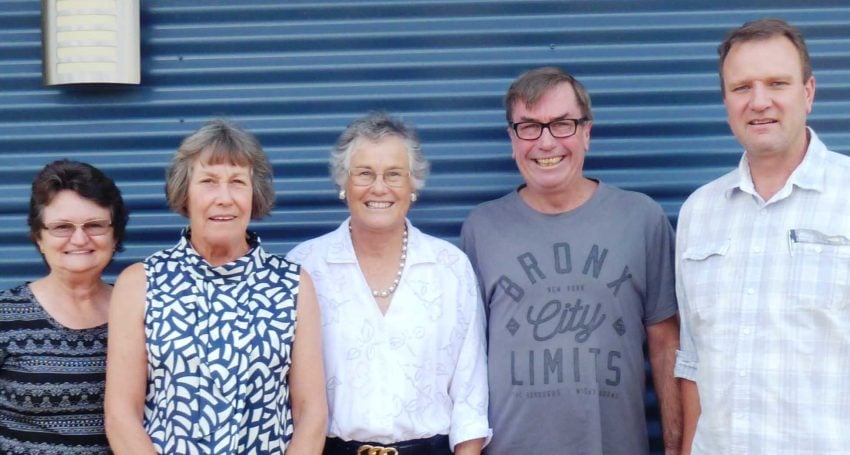 We Anglicans in the Maranoa and Warrego Regions have learned much from the foundation of the first Mission District (later Mission Area) of the Anglican Church Southern Queensland. We have learnt that new ministry models need to be developed in an ongoing way, requiring flexibility as the needs of an area change.
While the Maranoa-Warrego Anglican Mission District (MWAD) and its successor, the Maranoa-Warrego Anglican Mission Area (MWAMA), functioned very effectively when it was founded in 2011, it proved to be too geographically big. So the Maranoa-Warrego Anglican Mission Area was recently dissolved.
The story of Anglican ministry in the Maranoa-Warrego is worth telling.
Bush Brothers ministered in the Maranoa and Warrego areas from 1905 to 1967. Until early this century, prosperity, an adequate population and plentiful priests allowed The Parishes of Mitchell (including Mitchell, Injune and Amby centres), Charleville (with Charleville, Morven and Augathella centres) and Cunnamulla (including Cunnamulla and Wyandra, Eulo and Thargomindah centres) to operate independently, each with a priest.
Services at alternative venues, such as the Mungallala Hotel, Dunkeld Hall and properties owned by locals, retained a strong interest until drought, low commodity prices, centralisation of services and population decline collectively took their toll. Consequently there were insufficient priests to service these three parishes. By 2010 it was clear that times had changed and a new model for ministry was sought.
The first MWAD Priest-in-Charge, The Rev'd Peter Moore, and his wife, Alison, moved to the most serviceable rectory of the three, which was in Mitchell. And on Friday 27 May 2011, 17 people from the three parishes met in Morven and agreed to set up the Maranoa Warrego Anglican District. The three parishes retained their independent affairs, but contributed to a common bank account for The Rev'd Peter, to cover his ministry costs and transport.
The canon establishing MWAD for three years was dated 27 October 2011. A vote was required every three years to continue its existence.
The first change came when Injune, 160km north-east of Mitchell, formed the Injune Churches Together, a cooperative arrangement between the Uniting, Catholic and Anglican Churches, which was signed on 4 November 2011. The Rev'd Peter and then later the Anglican priest from Roma took turns officiating over Injune Churches Together services.
The Rev'd Peter's pastoral and administrative abilities and Alison's willingness to accept his absences for two weeks each month allowed this approach to work.
The next two priests, The Rev'd Steffan van Munster, who arrived in in 2014, and The Rev'd Rick Gummow, who arrived in 2018, served in MWAMA as newly ordained deacons. They came full of enthusiasm and supported us in our faith with fresh zeal, while being mentored by Bishop Cam Venables, The Rev'd Canon Gary Smith and others. They were priested a year after their respective arrivals.
In The Rev'd Peter's time we became accustomed to monthly or twice-monthly eucharists with morning prayer between these services led by lay assistants and Mitchell-based deacon The Rev'd Gerry Bahre assisting with funerals.
Most of our business was conducted via email and teleconference. We became adept at email discussions and "Reply all" is a wonderful tool for keeping everybody informed and included. Email communication is often more productive than face-to-face meetings because it allows time to consider and edit contributions. However, because our occasional meetings in Morven or Charleville involved an overnight stay, these gatherings are treasured memories.
The Rev'd Steffan took on the extra challenge of Police chaplaincy, which took him to more centres and the congregation at Thargomindah was nominated the fastest growing in our Diocese. This kept him in touch with different pastoral needs in all centres west of Mitchell. The somewhat nomadic life was less suitable once he was married with a family, and so he and Eliane moved to be near extended family in Switzerland.
Some of the key initiatives and decisions over the last decade include:
A big Mitchell project that involved the renovation of the old Bush Brothers' Cottage into a comfortable self-contained cottage for emergency accommodation or for the use of visitors who come for retreat, to study, to assist, or simply to be part of our community for a time. Solar panels were fitted to the church and rectory.
The four vacant blocks in Mungallala were sold after the Council began charging the State emergency levy.
In Cunnamulla The Rev'd Steffan took the initiative to undertake some practical work. He engaged with the local youth to paint the sanctuary and the parish hall, building a relationship with them as they learnt from his practical skills.
Rising maintenance costs led to the decision to sell the Cunnamulla vicarage.
Following necessary work on plumbing and drainage, we are considering selling the Charleville rectory (the large old Bush Brothers' House) and some land, with the proceeds used to build a new rectory.
With the Amby Hotel, shop and school closed, the Amby community can no longer sustain their church and so it was decided that it would close on 31 May 2022.
Another change was our name. The District was treated as a parish because Anglicans traditionally operate as a parish with a priest. However, in the canon a District is part of a parish. This caused confusion because we are separate parishes in all other respects other than sharing a priest, so in 2017 a canon was issued changing the name to Maranoa-Warrego Anglican Mission Area, or MWAMA.
At about this time, the Leichhardt-Chinchilla Anglican Mission Area was formed, testament that the model works. This was enabled by the financial contribution of the Bush Ministry Fund and the mentoring support of many lay and clergy in more populated areas of our Diocese for which we are grateful.
The Bush Ministry Fund, or BMF, was established in 1998 to provide financial support for parishes and clergy in rural areas of our Western Region. The BMF raises funds for ministry in the Western Region and encourages prayer, as well as partnerships with schools and parishes across our Diocese. The money raised is primarily used to help parishes pay for the provision of ordained ministers, mostly in the form of stipends, as well as for vehicle running costs and the replacement of vehicles when required.
BMF-supported clergy minister to Anglicans and other community members in the West. The BMF only supports rural ministry in parishes of our Diocese and gives at least 98 per cent of all money donated to support this ministry.
Department of Corrective Services Work Program Camps in both Mitchell and Charleville assist parishes by gardening, painting signs and doing minor repairs, setting up for functions, and even supplying music for services, depending on the skills available at the time. It was with much hilarity that some of them ironed white tablecloths for a debutante ball!
In early 2019 The Rev'd Rick and his wife Tracey brought new skills and within months of arriving Tracey opened the local Mitchell Art Show. However, the sheer size of the Mission Area took its toll on Rick's health and it became apparent that we had to change the model again.
Since The Rev'd Rick and Tracey relocated to The Parish of Drayton, Bishop Cam has travelled out to share communion and to support us in the increased isolation of the COVID-19 period. This led us to offer to drive to Toowoomba for the last two AGMs, which Bishop Cam chaired as Priest-in-Charge. At the first of these AGMs in 2021 we started exploring model options.
The three Parishes of Mitchell, Charleville and Cunnamulla, have a natural affinity and so it was sad when we decided at the 2022 AGM to dissolve MWAMA. Charleville and Cunnamulla are willing to form a new Mission Area if clergy are available. Meanwhile both centres have a Liturgical Assistant overseeing ministry. Mitchell chose not to join The Parish of Roma because the parish already has a large area that includes Yuleba, Surat and Injune. So The Rev'd Gerry Bahre is taking responsibility for ministry in Mitchell with the assistance of his wife, Rose, and me as Liturgical Assistants.
The Cunnamulla congregation gave a fitting farewell to MWAMA with a celebratory weekend in April, including a BBQ, tours, dinner and a Sunday service.
Ecumenical relationships are positive in all three centres with the denominations working together. The Charleville congregation has welcomed members from communities employed at the goat works, including several from the Solomon Islands. And, The Parish of Mitchell is blessed with First Nations community members.
"Sister parish" arrangements work where they have an affinity and if there are visits both ways to strengthen bonds. Resource Churches provide resources that we can access online. What is most valuable is personal mentoring for the lay people volunteering their time to keep the word of God alive in far-flung areas.
We are proud to have pioneered the Mission Area model, which is now being replicated. I think we need to explore the future model for small, scattered communities of faith, especially ones with a resident deacon. Clearly it needs to be flexible.
Every clear, beautiful sunrise and every star-filled night remind us of God's presence and our hope for a future with Him. There is a new optimism in rural Australia. Seasons and commodity prices have improved. People are visiting in larger numbers, and also moving here from the cities to purchase a home and settle. Housing is more affordable and newcomers enjoy being part of the small communities. Many are able to work from home online, arresting the population decline.
As we look to the future of rural ministry, how can the Anglican Church better train priests who see rural ministry as a vocation? Will theology students be offered rural practicums?
The Maranoa-Warrego Anglican Mission District and the Maranoa-Warrego Anglican Mission Area have proved that with the courage to be flexible and meet needs as they arise, the future can be bright if we recognise and work through the challenges.
Editor's note: The new Bush Ministry Fund money boxes are a fun and easy way for individuals, families, parishes and schools to donate to bush ministry in our Diocese. Order your BMF money box today by emailing Helen Briffa in the Western Region office via hbriffa@anglicanchurchsq.org.au or by calling 07 4639 1875.
Jump to next article