My post-pub call to the priesthood
"I'd never have stepped into a church of my accord, but when your fiancée suggests that you attend church, you go. Four years after the initial call to study, I walked into The Parish of North Pine. There I was asked by The Rev'd Lynda Johnson, 'What brings you here today?' With all the eloquence of a grunt I replied, 'I dunno!'" recalls The Rev'd Peter Jeffery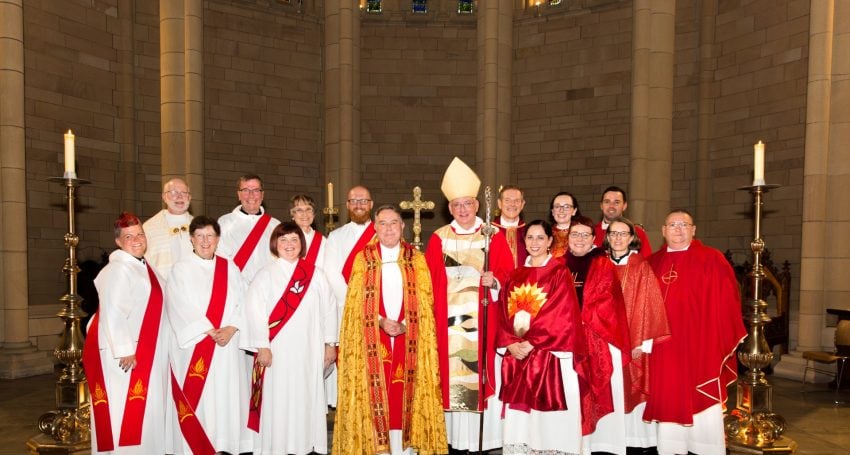 I was minding my own business, truly I was. I'd been out with friends at a Fortitude Valley pub and thought I'd flick the TV on before bed. After long nights out, I'd come home and tune into Christian television — didn't we all? This night was different. Amidst a swirling head there was undeniable clarity. On TV was a class from Moore College. It was immediately clear to me what I had to do. I had to study.
There was a small problem — I'd never been to church. Nor did I have a Bible. So, I prayed and some months later, I was gifted a Bible. The Bible remained in my back pocket for years, along with the idea of study. On and off the Bible was opened, only to be put away again. It wasn't until I had a community that the scriptures began to change my life.
I'd never have stepped into a church of my accord, but when your fiancée suggests that you attend church, you go. Four years after the initial call to study, I walked into The Parish of North Pine. There I was asked by The Rev'd Lynda Johnson, "What brings you here today?" With all the eloquence of a grunt I replied, "I dunno!"
I was blessed by their church, which nurtured and discipled me — that enabled an experience of God. That bathed in the personal overflow of the Trinity. That nurtured a desire to learn and live out spiritual gifts and talents.
Most importantly the church provided mentors, both long-term and seasonal. One such seasonal mentor was Adrian Lane, who said, "Peter, I am around the corner from your office all week, when can we meet?" I had avoided Adrian for a few months because I guessed that he wanted to chat with me about potential theological study.
When we did meet up, Adrian explained that theological study does challenge and broaden our limited and comfortable understanding of God. I give thanks for this truth being spoken. Without such pastoral advice, it is not inconceivable that I would have walked away.
The Christian life involves living into God's reign, which is often invisible to human eyes. Adrian's proactiveness epitomises the need for mentors who help discern what we couldn't or wouldn't by ourselves. That is why I have clung on to mentors who have journeyed with me from the beginning.
I applied to study part-time commencing in 2011 with no vision of where study may lead. In mid-2010, a week before our first child was due, my job was made redundant. My wife's school community responded in prayer, and I had a job that night. Working part-time allowed me to then engage the discernment process and before we knew it, we were moving to live and study at St Francis College.
"Don't worry about the academics they will come. We see you are here because you are pastoral." This affirmation from the (then) St Francis College principal, The Rev'd Dr Steven Ogden, sums up the college's pastoral approach.
Surrounded by peers day and night, theology became real as we discussed it, particularly around a backyard fire. The immersive nature of living and studying at St Francis drew discernment deeper. You couldn't be absorbed only in discerning your own call — like it or not we were part of each other's discernment wrestle. It was life together.
"Oi, are you a priest?" Instinctively, I touch my collar. "Argh, I have it on," I think. "Can you pray for this?" the person asks lifting their shirt to show a wound. The local fish and chip shop was a haven for many marginalised folk. Each day prayers and conversations like this took place. The shop opened my eyes to the community chaplain aspect of the priesthood, reminding me of the simplicity of the task I felt called to — that is being available.
This "being available" led me to communities I had little experience with. Over time it's become as simple as being available for coffee at the local cafe or for the opening of church doors for restorative justice meetings.
At other times, "being available" means turning up — whether advocating for refugees with Love Makes A Way outside the Department of Immigration and Border Protection or engaging community in developing Reconciliation Action Plans. Discerning where to engage is an ongoing process. But we need to be available and ready, so that the Gospel may be shared in such spaces.
What can I say about discerning a call to ordained ministry? Discernment is a process of great joy, as you grow deeper in your knowledge and dependence on God.
From that first television program to writing this reflection two and half years into my first placement, what has remained consistent? It's that every step taken has been one that deepened my personal relationship with the Lord and Saviour — without whom we cannot live out the great commission of making further disciples.
Editor's note: Vocations Month will be held in August, with a Seekers Day (for those wishing to explore their vocation) held on Saturday 2 September 2023. For more information about the Seekers Day, please email The Director of Discernment and Formation, The Rev'd Canon Sarah Plowman, via sarah.plowman@anglicanchurchsq.org.au and visit the ACSQ vocations webpage.
Jump to next article