My stubborn chaplaincy call
"Whether it is in Anglican schools, colleges, universities, aged care facilities, hospitals or other workplaces, chaplains nurture, guide and comfort people from all faiths and none. They are truly the face of Christ in the world," says The Rev'd Canon Sarah Plowman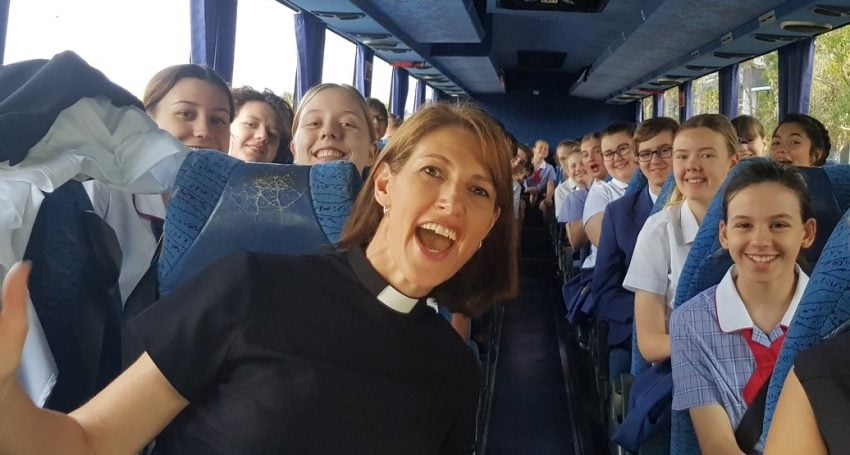 Starting out your vocational journey by being stubborn isn't the best look. But in my case, I was — although for a good reason. I entered the vocational discernment process with the firm conviction that I was called by God to work as a chaplain — specifically an Anglican school chaplain, as I had been a teacher for some years. I was strongly encouraged to consider ministry in a parish, and while that is critical and central ministry in our Church, some are called to minister on the periphery, rather than in the centre. My call to priestly ministry could be expressed as a desire to draw God's people together around the sacraments, which is done wonderfully in our parish faith communities, but that was not where I believed I was called serve the Church. So I persisted in my requests to remain in a school for training and curacy, and eventually served for 17 years as a lay and ordained person in Anglican schools as a chaplain.
In the Anglican Church and more broadly, a chaplain is someone who works outside the gathered parish church, usually with those who do not (and may never) call themselves Anglican or even Christian. It's a wonderfully rewarding place to minister and worth considering as a ministry path.
I recently attended the international conference of the Colleges and Universities of the Anglican Communion (CUAC) in Melbourne. Universities and colleges owned and run by churches in the Anglican Community educate and nurture young adults in many fields of study on every inhabited continent. I met dozens of dedicated people living out the Anglican faith in this very specialised area of ministry.
In particular, the chaplains' retreat day inspired and encouraged me in the absolute necessity of calling, forming and sending faithful chaplains into the spaces where the Church is organically entwined in the secular world — which is God's world, too! This resonated strongly with my journey to ministry, where chaplaincy — particularly school chaplaincy — is a distinctive call on my life. Anglican schools have been so much a part of my life and ministry that I cannot over emphasise the importance of the incarnational expression of God's love that chaplaincy provides in this context. Spending time and learning with university and college chaplains from across the Communion expanded and strengthened my conviction that chaplaincy is a distinct call to ministry that should be heard, nurtured and empowered.
One of my fellow attendees was The Rev'd Samuel Dow, the newly appointed chaplain at St John's College within the University of Queensland. Along with other Christian staff, the chaplain is a living presence of the Christian faith at the College. While such communities may sometimes be seen as peripheral to parishes and may only have a tenuous connection to parish community members who worship Sunday by Sunday, it's in such organisations that growth and dynamic transformation also happen in hearts and souls.
For Samuel, chaplaincy is about genuine encounters with people from all walks of life and providing a safe space where their stories can be heard.
"These conversations often provide opportunities for people to reflect on their own life including their spirituality and what is important to them," The Rev'd Samuel said.
"This shouldn't be underestimated in a society where much of our communication and 'talking and discussing' is done online without human connections.
"I find that walking the journey of life alongside others in this way is very Gospel centred, particularly taking example from Jesus walking the road to Emmaus.
"It is for this Christ-shaped and Gospel-focus aspect that I have always been attracted to ministry within the chaplaincy context as 'hearts burn' within, recognising Jesus in our midst."
Universities and schools are not the only places where this kind of incarnational ministry takes place. It can happen in hospitals, aged care facilities, and workplaces of all kinds. The Rev'd Jessica Grant's ministry experience as an Australian Defence Force chaplain has deeply shaped her understanding of what Christian ministry should be. Now a chaplain at Churchie, she still feels that her primary call to ministry is as a chaplain, and that chaplaincy will form the model for most future ministry in the Anglican Church.
"I think parish ministry and chaplaincy emerge from two very distinct, but equally important aspects of our Christian identity," The Rev'd Jessica said.
"To be a chaplain in the military, or a hospital, or a school is to belong in a very different way to an organisation with its own purpose and identity.
"So one is always aware of being a guest, always seeking to translate the rich 'grammar of God', to borrow Rowan Williams' term, into the language of the community around us.
"As each generation diverges from our traditional understandings of Sunday worship, stewardship, and local loyalty, the bridge that is built between the Church and our neighbours through the work of chaplaincy becomes more and more vital."
Whether it is in Anglican schools, colleges, universities, aged care facilities, hospitals or other workplaces, chaplains nurture, guide and comfort people from all faiths and none. They are truly the face of Christ in the world. Some are deacons, some priests, some are lay, but all feel that call to journey alongside people, inviting them into conversation and relationships of trust where God's love can shine brightly exactly when and where people need it most.
Editor's note: For more information about becoming a school chaplain, please email The Director of Discernment and Formation, The Rev'd Canon Sarah Plowman, at sarah.plowman@anglicanchurchsq.org.au. Vocations Month will be held in August, with a Seekers Day (for those wishing to explore their vocation) held on Saturday 2 September 2023. For more information about the Seekers Day, please email The Rev'd Canon Sarah Plowman and visit the ACSQ vocations webpage.
Jump to next article