Sharing sacred stories and vessels
"When we extend an invitation to people, including seasonal workers, to join us, we have both the responsibility and privilege to listen to their story. Sharing narratives is at the heart of Christian community and essential for our own sense of person and place," says The Rev'd Dr Imelda O'Loughlin, locum priest at St Alban's in Gatton, in this Season of Creation reflection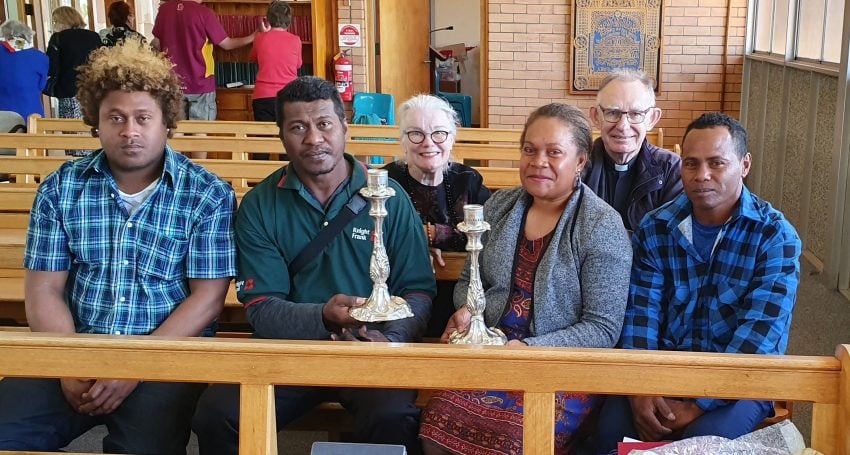 Australia is so very fortunate to be able to recruit seasonal workers from Pacific Nations, who assist regional areas with labour shortages, enrich our communities with their vibrant cultures and bless our churches with their enthusiastic, prayerful, and often musical, presence.
While such visas do financially assist these seasonal migrant workers, the bottom line is that visas would not be granted unless it was in the Australian national interest.
Personally, I do not believe that we are an innately fearful nation. No fear of 'the other' is innate. My impression is that our fearful rejection of 'the other' is instigated by the press and motivated by political powers.
When we extend an invitation to people, including seasonal workers, to join us, we have both the responsibility and privilege to listen to their story. Sharing narratives is at the heart of Christian community and essential for our own sense of person and place.
As a locum priest at St Alban's in Gatton, I have been fortunate to meet a small band of Solomon Islanders who work in the area. Some pick fruit, some work in nearby meat processing works, some on vegetable farms – all have wonderful stories to share.
Henry lives on a small island in the Malaita Province. His father was the first priest at the Holy Pentecost Church in his village, and now his cousin continues in the role. Henry's mother lives in Honiara and it was while visiting her that he heard about the opportunity to come to Australia for seasonal work. Henry describes himself as "shy, but pro-active" and told me that he was overwhelmed by the kindness of all the Australians he has met.
Tony has almost finished his time in the Lockyer Valley. In just a few weeks, he will return to his home in the Isabel Province. However, he cannot return to the island where he was born and went to primary school. That island is now underwater – not metres deep, but enough water to mean that his entire village had to be moved to a higher, larger landmass. Tony says that his family sometimes go back to the island on special days. He says that it is still a disturbing reality that his home land is underwater. In conversation with Tony, he revealed that the church at his new home would value incense and candlesticks! Such is God's providence that the closure of St John the Divine at Surat in the Western Region has meant that sacred vessels have been made available to more than one Pacific Island church. Earlier in the year, a cross and candlesticks were gifted to the Solomon Island congregation of St Peter's Church, Tatarabebe Village, in the Malaita Province where Henry comes from. Now Tony will take candlesticks back to his village in the Isabel Province.
Why is Tony's homeland underwater? Essentially, this is due to increased levels of CO2 and other greenhouse gases in the atmosphere which trap heat. This happens in response to the burning of fossils fuels like coal, oil and natural gas, the manufacture of cement, deforestation and wildfires. As the earth's temperature rises, so does the sea temperature. We know from basic physics that when we warm water it expands in volume. If we then add to this increased water volume, the melting of sea ice and the glaciers at high altitudes, there is a slow but relentless increase in the volume of our oceans. The water must go somewhere, and it does. It flows onto the low-lying land masses that many island people call 'home'.
This reality is not confined to the Solomon Islands. The Rev'd Dr Jione Havea was born in Tonga and writes about his experience of the loss of his home island from encroaching seas. Through his theological writings and drawing on the psalms of lament, Jione seeks to support his fellow home landers who can never call their island in Tonga 'home' again. When Jione periodically returns home, he faces the scattering of bones along the seashore as ancestors long dead have the indignity of their mortal remains unearthed by rising tides and scattered anonymously. They no longer have a place to rest. Tony explained to me that in his village in the Solomon Islands, this has so far not been a problem since the cemetery has always been on another island – one which has not yet flooded.      
There is so much to learn about our world and each other. September is this Season of Creation. Start a conversation in your parish and amongst your friends about what climate change means for you and our neighbours.
Jump to next article