Honouring my curacy pledge six years on because everyone has a right to live in peace and freedom
"The enduring memory I have of the sanctuary training is the sense of unity felt by people of all ages who came together, raising their voices for refugees whose voices were being ignored. The people who participated were from different faith and no faith backgrounds. I remember one young person saying to me, as we sat on the steps of the Cathedral, 'If church was like this, I would be a part of it!'" says The Rev'd Sue Grimmett from St Andrew's, Indooroopilly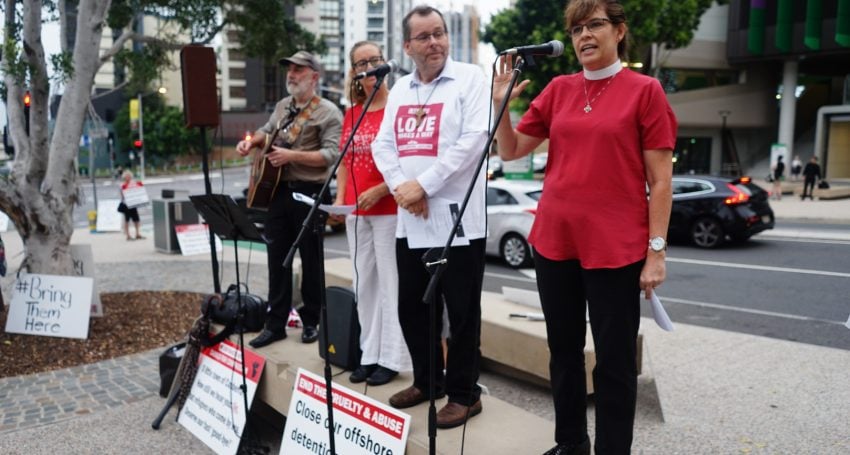 In early 2016 during my Cathedral curacy, I joined hundreds of Christians from different denominations at a vigil where I pledged to support refugees who were being threatened with deportation by the Federal Government back to detention centres on Manus and Nauru. These people were living in "community detention" in suburban homes in Brisbane and other cities while receiving medical care, or while accompanying their sick children, after they were medevacked here.
This cohort of very vulnerable people were offered sanctuary by dozens of Christian churches around the country, including many Anglican parishes. The Cathedral was seen as "Sanctuary HQ" nationally, partly because it was the largest church to make the offer.
At the time, the Cathedral Dean, The Very Rev'd Dr Peter Catt, was the Chair of the Australian Churches Refugee Taskforce. He worked with Human Rights Law Centre lawyers to ensure that the sanctuary offer was both structured and safe.
This strategy also involved preparing for the Cathedral's readiness in the case that anyone from this cohort sought sanctuary after consulting with their legal team. So after my pledge at the vigil, I assisted with the training of over 150 community members to be "shields" to help people if they sought our protection. It was important to train people for this task, so that they knew what to do and how to do it if their help was called upon.
The enduring memory I have of the sanctuary training is the sense of unity felt by people of all ages who came together, raising their voices for refugees whose voices were being ignored. The people who participated were from different faith and no faith backgrounds. I remember one young person saying to me, as we sat on the steps of the Cathedral, "If church was like this, I would be a part of it!"
"This is what the Church has always been about," I responded gently.
In the end, the mere offer of sanctuary was so effective that not a single refugee from this cohort was deported back to either Nauru or Manus. With churches being willing to break the law, the political cost became too high for the Government to risk deporting anyone from this cohort.
Fast forward six years to January this year, when the deportation of Novak Djokovic brought international attention to the more than 60 people warehoused in hotels and "transit accommodation" around the country after they were also medevacked here. Nearly all of these people were found to be refugees under the law eight years ago.
In early February to update anglican focus readers, Peter Branjerdporn from our Justice Unit wrote about the plight of one of these people – a young Iranian refugee named Mehdi. Mehdi is among those who were medevacked here from offshore detention camps on Manus and Nauru where they suffered physically and psychologically.
After fleeing political persecution in Iran, Mehdi was detained by the Federal Government for nine years from the age of 15, even though he was found to be a refugee. Following a lengthy imprisonment on Nauru, Mehdi was flown to Brisbane where he was detained in the Brisbane Immigration Transit Accommodation Centre (BITA) and Kangaroo Point Central Hotel.
Mehdi spent the last period of his detainment in the Park Hotel in Melbourne. There he spoke courageously to the local and international media, particularly during Novak Djokovic's bid to remain here, in order to advocate for the men who were detained.
On 3 March, Mehdi was finally freed so he could rebuild his life, flying to the United States. He continues to call for the release of the remaining people still detained by the Government in crowded detention centres and hotels:
"My freedom is the worst kind of freedom. I can't be happy for long. Happiness feels selfish and wrong when my friends sleep in a detention centre with tears and sighs and wake up in detention with tears and sighs."
Mehdi calls us to join him in advocating for the release of the remaining men who are detained:
"I believe that the oppressed, the media and regular Australians should all work together to eradicate this oppression."
More than 40 people remain arbitrarily detained around the country in hotels and "transit accommodation" compounds. They have a right to rebuild their lives in peace and freedom.
We know that when constituents speak up that our elected representatives listen – this is why people are being released.
We also know that the Home Affairs Minister Karen Andrews can free the remaining  people detained around the country with just her signature.
Three things we can do to help
Pray that those being indefinitely detained in immigration detention in hotels and "transit accommodation" around the country will maintain hope.
Write to or call the Minister for Home Affairs Karen Andrews, who is based at the Gold Coast, and tell her that you want these people immediately released from immigration detention. The National Council of Churches in Australia has suggested that we use these useful tips if we want some help with the wording.
Write to or call your Federal elected representative and tell them that you want these people immediately released from immigration detention: search Senators and Members.
Jump to next article