"He is always with and for us": three ACSQ community members on Archbishop-elect Jeremy Greaves
With the announcement that Bishop Jeremy Greaves will be installed as our new Archbishop in December, three ACSQ community members — The Rev'd Tania Eichler, The Ven. David Ruthven and Michelle McDonald — reflect on their favourite moments serving alongside Bishop Jeremy and what they are most looking forward to working with him on after his installation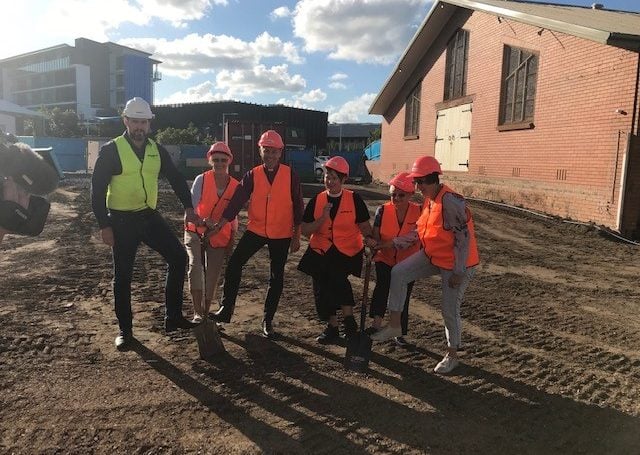 The Rev'd Tania Eichler — Rector, The Parish of Maroochydore
Bishop Jeremy has been my parish's Regional Bishop since 2017. My favourite memory of Jeremy over this time is when he came to our church for the turning of the sod of our new ministry centre in 2021. It was special because we were all being ourselves laughing and going around with hard hats, high-vis and clergy garb on, with additional shovel props in hand. We pretended to know what we were doing as we put the shovel into the ground.
He created the prayer and blessing words for the turning of the sod. Here is an excerpt:
"May the doors of this place be wide enough
to receive all who hunger for love,
all who are lonely for friendship.
May it welcome all who have cares to unburden,
thanks to express, hopes to nurture.
May the doors of this place be narrow enough
to shut out pettiness and pride, envy and enmity.
May its threshold be no stumbling block
to young or strained feet.
May it be too high to admit complacency,
selfishness and harshness.
May this place be for all who enter,
the doorway to richness and a more meaningful life."
Jeremy is an everyday bloke who listens and wants to journey alongside people in genuine relationship. He gets a good read of how things are happening in a small community and in the wider Church. He understands the heartbeat of our parish. I often hear from other people that he understands the heartbeat of their parishes, schools and agencies when he connects with them, always offering encouragement and care.
Jeremy is a great leader because of his "That's a great idea, let's make it happen" attitude and his trustworthiness — a trustworthiness built on relationship — and his commitment to the heart of the gospel. He gives me freedom to explore, experiment and be creative as a parish priest. So, I'm most looking forward to working alongside him in creatively imagining mission in our local communities. He is never to the people — he is always with and for us.
The Ven. David Ruthven — Rector, The Parish of North Pine and Archdeacon of Lilley
In 2019, my first interaction with Bishop Jeremy Greaves occurred through email when I enquired about The Parish of North Pine's ministry vacancy. His response struck me for its emphasis on finding someone aligned with the church's values rather than simply filling a position or pursuing a theological agenda.
As I assumed my role as Rector, it became evident that Bishop Jeremy was comfortable with our informal "low church" worship style. He accommodated this informality seamlessly, blending into our congregation during his visits.
Bishop Jeremy's pastoral skills are noteworthy. He patiently assists liturgical assistants during worship, particularly those accustomed to a less formal service. Additionally, I've personally benefited from his pastoral approach. Arriving in North Pine just before the COVID-19 pandemic, I faced uncertainty and questioned my fit for the parish. In response, Bishop Jeremy offered reassurance and encouragement, allowing me time to adjust to my new role.
On another occasion, when confronted with a challenging leadership situation and disparaging emails, Bishop Jeremy extended his support through an encouraging message.
I have found that Bishop Jeremy responds with composure, maturity and grace despite occasional unfair criticism. His focus remains steadfast on the mission of furthering God's Kingdom rather than conforming to external expectations.
Looking ahead to his installation as Archbishop, I anticipate collaborating further with Bishop Jeremy in my role as Archdeacon. We frequently discuss strategies for filling vacant parishes and how we respond to limited resources. I also look forward to witnessing his creative and imaginative responses to the challenges that lie ahead, guided by The Spirit.
Michelle McDonald — Editor of anglican focus 
I first met Bishop Jeremy in 2018 when I commenced in the role of anglican focus editor. We met on my first day while I was being introduced to clergy and staff during a St Martin's House walkaround, and I was struck by how intently he listens.
In June 2021 Bishop Jeremy authored and coordinated an open letter signed by Anglican Bishops across the nation advocating for a Tamil family from Biloela, Nades and Priya and their daughters. The letter demonstrates Bishop Jeremy's leadership skills and his commitment to family, regional communities, people seeking safety and Christian values, writing that:
"As Christian leaders, we echo the call for a compassionate, fair, safe, common sense and permanent solution. We stand in solidarity with this young family seeking peace, safety and stability, and with the Biloela community who are waiting to welcome them back home."
Soon after coordinating this letter, Bishop Jeremy wrote a card to Angela Fredericks, a Biloela Anglican driving the campaign to support the Tamil family. He learned that she was struggling from exhaustion and disappointment and so he wrote to her assuring her of his prayers and offering her assistance.
This experience showed me that Bishop Jeremy cares about Jesus' mission — and that he demonstrates this through both large initiatives and small gestures.
So, in the capacity of my role as anglican focus editor, I am most looking forward to working with Bishop Jeremy when he becomes Archbishop in justice spaces, especially towards Reconciliation with Aboriginal and Torres Strait Islander peoples and in advocating for people seeking asylum.
Jump to next article