2023 Diocesan Synod reflections: highlights and learnings
Four faithful clergy and lay people from across our Diocesan Regions share their Synod highlights and learnings with anglican focus readers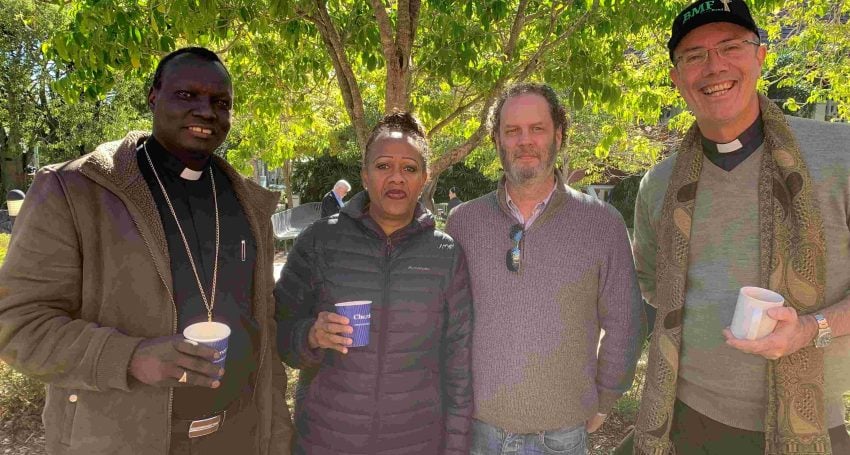 Bishop Daniel Abot — Ethnic Congregations Specialist
Synod is always good. I especially enjoy the fellowship opportunities. It's rare for me to be able to catch up with a lot of people I long to see. It means a lot when I gather with my brothers and sisters and they provide encouraging feedback on my ministry.
For example, The Rev'd Charlie Lacey from St Andrew's, Springfield is a faithful man. He always responds positively when I send out my monthly newsletter, so it was great to see him in person at Synod. I dived into a conversation about my work with the Archbishop's Executive Assistant, Ann Joseph, at the Bush Ministry Fund trike stall. She said that she also enjoys reading my newsletter and is grateful for the work I am doing. The Rev'd Canon Gary Harch was my mentor between 2007 and 2009 in Toowoomba while he was serving as rector of St James'. I was able to express my gratitude towards him for his guidance and kindness and he said he appreciated my work.
Fellowship of believers helps make us who we are as a Christian community — any gathering of believers does. It's important for us to encourage and appreciate one another.
It was an honour to lead the Sunday morning service in Churchie's chapel. God sends his Holy Spirit when people of different faith communities gather.
Both fellowship and worshipping together are very special.
Dr Chris Gourlay — Synod Rep, St John's Cathedral
The Synod Eucharist on Friday evening was a highlight for me. I always enjoy the service, and this year I found it particularly uplifting with beautiful music and singing, in particular the Graham Kendrick congregational hymn 'Beauty for Brokenness' and the Joseph Haydn setting of the Eucharist.
The service was an expression of God's people coming together in worship, and is always a key part of Synod. The Ven. Lizzie Gaitskell's sermon was similarly inspiring. A sense of excitement built before the service as people chatted in the Cathedral and shared a simple meal of pumpkin soup and bread — old friendships were renewed as the church gathered from all corners of our Diocese.
I was able to engage with others to a greater degree than earlier Synods because the Synod team, led by Assistant Registrar Lisa Sargeant, kindly checked in people for the service. This meant that I didn't need to organise Cathedral stewards for this task. I was immensely grateful for the opportunity to just mingle and engage with as many people present as possible.
I was reminded of Philippians 4.6-7: "Do not worry about anything, but in everything by prayer and supplication with thanksgiving let your requests be made known to God. And the peace of God, which surpasses all understanding, will guard your hearts and your minds in Christ Jesus." The prayer and worship at the Eucharistic service were essential for the rest of the Synod weekend to follow with a sense of peace, which is a good message for our lives in the world.
The Rev'd Loretta Tyler-Moss — Assistant Priest, The Parish of Brisbane Valley
The most powerful aspect of this year's Synod was the synergy between the President's address, Archdeacon Lizzie Gaitskell's sermon at the Friday evening Eucharist and The Rev'd Canon Sarah Plowman's sermon that she shared at the Eucharist in the Churchie Chapel on Sunday morning.
Archdeacon Lizzie's reflection on the "wilderness of modernity" was both reassuring and confronting. In affirming that we are each wandering in our own wilderness experience, the sermon prompted me to pause, to notice and consequently to "name it and tame it".
The Rev'd Canon Sarah Plowman's suggestion that the sword Jesus refers to in Matthew 10.34 offers liberation, rather than merely division, paired well with my new impression of the wilderness of daily life. Suddenly I am looking at Jesus' call on my life as a kind of liberation from the strictures of modern daily living.
In the context of these two sermons, the identification of the 10 Lambeth Calls in Bishop Cam Venables' Presidential address stood out. These calls provide me with a way to cut through the noise and clamour of the modern wilderness, offering compass points in my mission. The naming of these elements, or calls —  Discipleship, Environment and Sustainable Development, Anglican Identity, Safe Church, Science and Faith, Human Dignity, Christian Unity, Mission and Evangelism, Inter Faith and Reconciliation  — offered reassurance, whilst marking the challenges ahead.
Together, these three Synod addresses offer me encouragement to embrace Jesus' sword of liberation as I embrace my Anglican Christian roots while navigating the issues and matters of the modern wilderness.
Michael Stalley — Rector, The Parish of Mt Gravatt
My Synod highlight wasn't a "highlight" until the weekend was over. Motion 27, "Sustainability", passed without much fanfare or discussion, and noted the new ACSQ Sustainability Roadmap that was launched earlier this year. However, it became a highlight because the roadmap contains some useful and immediately applicable resources I have since used in my parish. You can find much of the information on the ACSQ website.
The Roadmap's vision states, "We actively participate in the flourishing of God's creation by working deliberately, urgently, creatively to limit and reduce human-induced warming and the resultant effects of climate change."
Along with other useful information that can assist a parish develop their own roadmap, a sustainability audit resource is available on the ACSQ website. I have previously found it challenging to find such a useful tool for my parish. We have already completed the audit and plan to present it to Parish Council to help us consider how we can contribute to the ACSQ's Roadmap for 2023-2030.
Jump to next article