Hop n Hymns: from Toowoomba to Thargomindah
"Many of the connections we made on our recent trip will continue and will give birth to new connections for a long time to come. One person we met told us their relative was in hospital in Toowoomba 1000 km away from home and family, and we were able to organise someone from our Ecumenical pastoral care team to visit them the very next day," says hospital chaplain and St Bart's, Toowoomba parishioner Jodie O'Shannassy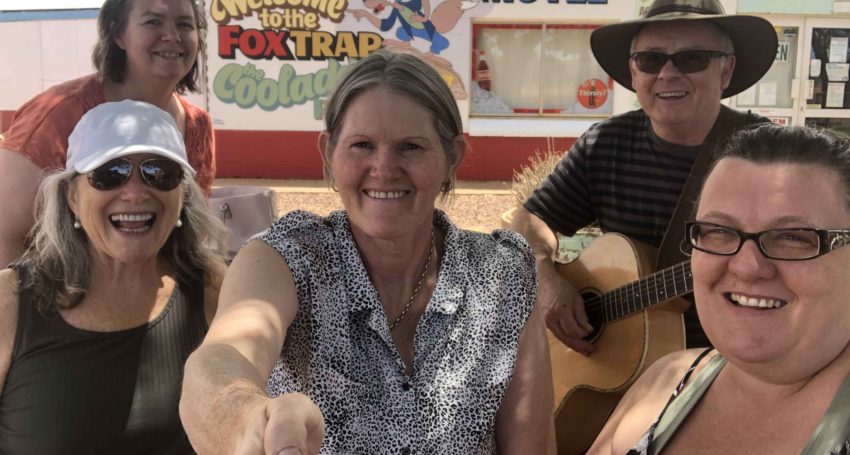 Story Timeline
How my art intersects with my faith
Having grown up in the Church and lived a vibrant life of personal faith in Jesus during my teen years, in my early 20s I was hiding from God working as a bartender and singing karaoke in a little pub on the outskirts of town Toowoomba. One night a woman stood up and sang 'Amazing Grace' unaccompanied during karaoke which ultimately changed the direction my life took from there.
Music has a way of reaching into the deepest parts of the human soul, opening hearts and minds to reflect on the joys and sorrows within. It was from this vulnerable place, during my 'Amazing Grace' experience that I began to reconnect with my precious friend Jesus.
Almost 30 years later, I was inspired to sing hymns in pubs as way of connecting with others who have lost their way, are lonely or are in need of hope. A group of musicians attending St Bart's, Toowoomba at the time had already been serving local rural churches providing music for Sunday services. I, as lead singer, Rick Bonser on guitar and mandolin, and Gillian Bonser playing flute and alto recorder made up the core of this group. On occasion when we were playing close to home, we were blessed with musical support from other St Bart's parishioners, such as Frank Earley on double bass and The Rev'd Dr Daniel Rouhead on piano. At the beginning of 2016 Suzie Ross joined the group to form our current four-member band, 'Hop n Hymns'. I gave a motivational speech, and we hit the road. We started by doing regular hymn sing-alongs at a local pub in town, but soon found that we made more meaningful connections in small rural communities.
It was at this point that I decided I needed to develop some keyboard skills, so with my limited knowledge of music theory I began. Hop n Hymns has provided us with the opportunity to also offer support for outreach activities in the community, such as campfire church, community carols, pub church, fetes and markets. Before we plan our pub gigs, we like to connect with a church community in the area and work with them. We believe that once people have their heart opened to the Gospel through music, lyrics and conversations, it is important for them to know where to go for support. Hop n Hymns is only in town for a day or two.
Music has been a foundational influencer of faith for generations. What we sing sticks. Many songs sung in Sunday Schools and kindergartens are remembered word for word into old age. The Hop n Hymns team chooses songs prayerfully, with the intention to call forth hope and faith in Jesus through the memories music can evoke. An eclectic mix of traditional old hymns, contemporary worship, country gospel, pub classics and modern folk makes it possible for Hop n Hymns to be relatable to a wide audience in pubs and at community events, as well as in church on Sundays.
Hop n Hymns guitarist Rick sees playing music as a form of worship and offering:
"I really enjoy being able to use the gifts God has given me, not only to worship Him but also to follow His example and be a blessing to others. There are plenty of more talented musos out there, yet as we make music and connect with people, I never cease to be amazed watching God at work."
Recently The Rev'd Rick Gummow invited us to travel to Thargomindah, 11 hours' drive west of Brisbane, stopping at various places along the way. Amongst the many highlights of the trip was a brief stop at the Foxtrap Roadhouse in Cooladdi where we sang carols under the shade of a cool tree with our new friend Roxanne. By the time we arrived in Mitchell, about six hours' drive west of Brisbane, word had got out that we were coming, and a few faithful locals from the Anglican Church showed up to enjoy dinner followed by worship songs under the stars.
Many of the connections we made on our recent trip will continue and will give birth to new connections for a long time to come. One person we met told us their relative was in hospital in Toowoomba 1000km away from home and family, and we were able to organise someone from our Ecumenical pastoral care team to visit them the very next day.
So far 2021 looks to be one of change as my husband and I farewell St Bart's and settle in at St Matthew's, Drayton. The band will spend a good amount of time in preparation and practice as the members wait on God to see where He will us lead us next.
Hop n Hymns does not charge Anglican Churches for church-based bookings. For bookings and for more information, please email beerhymns@outlook.com or call Jodie O'Shannassy on 0428 191611. Follow us on Facebook or Instagram.
Jump to next article