The blessings of joining Holy Hermits Online: growing and serving from the comfort of your own home
"The benefits of joining Holy Hermits Online vary from person to person, and include convenience, simplicity, flexibility and COVID-19 safety, especially for people in high-risk demographics. Unlike YouTube live streaming, Zoom allows those attending to be more actively engaged, as we interact as an online community and participate in services much like we do offline," says Jeremy Fraser from Holy Hermits Online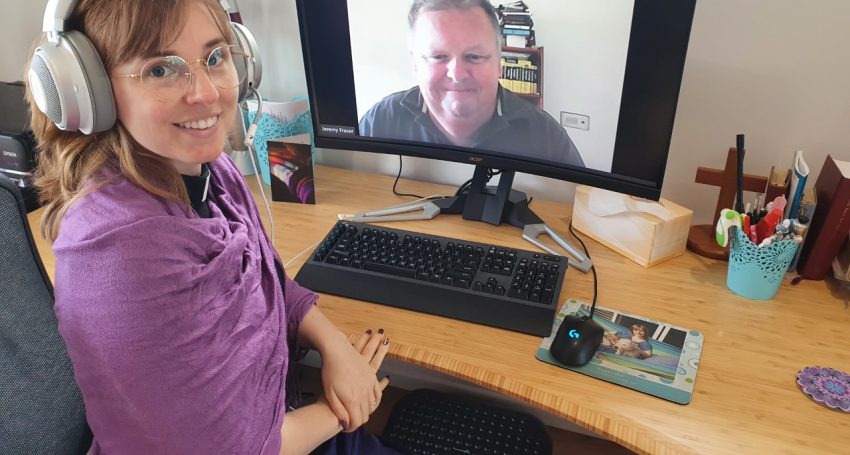 Towards the end of last year I shifted from traditional "bricks and mortar" Anglican churches to Holy Hermits Online, an online ecumenical community led by The Rev'd Jamee Callard.
The primary reason I moved to Holy Hermits Online, or "HHO" as we affectionately call it, is because I rely on public transport and the nearest parishes take at least an hour for me to get to.
The community meets via Zoom on Sunday mornings for services and Wednesday evenings for study and fellowship, as well as on key liturgical calendar dates, such as during Lent, Eastertide and Christmastide.
I've grown to like the convenience of online services, with HHO giving me the best of both worlds – building relationship with regular worshippers in the comfort of my own home so I don't have to travel.
Around August 2021 while stumbling around the Cathedral's website, I noticed that Holy Hermits Online is partnering with St John's. At the time I was trying to find something, somewhere new to attend after a few years of church drifting.
I did my research, checking the Holy Hermits Online website and YouTube channel to get a better feel for it before attending. I really like how the sermons and other parts of the service are available online.
Within a few days of contacting The Rev'd Jamee via the website, I started attending HHO Sunday morning services.
Being a HHO members has given me the flexibility and confidence to volunteer as a reader and assist Jamee with prayers, liturgical tasks and offering responses as the voice of the congregation so that different devices are not competing for audio as we move through the interactive service.
The ability to be a part of the Church and actively participate in the liturgy has developed my understanding and appreciation of church, as well as helped me grow in faith and connect with community.
The benefits of joining Holy Hermits Online vary from person to person, and include convenience, simplicity, flexibility, and COVID-19 safety, especially for people in high-risk demographics.
Unlike YouTube live streaming, Zoom allows those attending to be more actively engaged, as we interact as an online community and participate in services much like we do offline.
As a Holy Hermits Online member, I have also enjoyed learning about the Church's holy hermits. Many associate hermits solely with the Early Church or the Middles Ages. However, my favourite hermit is Sr Wendy Beckett because her interest in art and teachings on prayer resonate deeply with me.
Sr Wendy sadly passed in 2018. In life she produced many famous BBC TV series on art, such as Sr Wendy's Odyssey, and several books to help Christians with prayer.
It was both her religious works on prayer and her art programmes that inspired my interest in art (as an observer rather than as practitioner), art media and mysticism.
Sr Wendy showed me how to live and practise faith in a modern society. Her life illustrates that being holy and a mystic are as equally possible now as they were in the distant past.
Editor's note: For Holy Hermits Online, Holy Week will begin on Palm Sunday with a 9.00am worship service, including a digital procession. The community gathers again for a series of contemplative services on Maundy Thursday at 6.00pm, Good Friday at 10.00am and Holy Saturday at 10.00am. Triumphal Easter Day worship will include an Agape feast and egg blessing at 9.00am. All are welcome to sign up for Zoom links or learn more by visiting the Holy Hermits Online website. 
Jump to next article